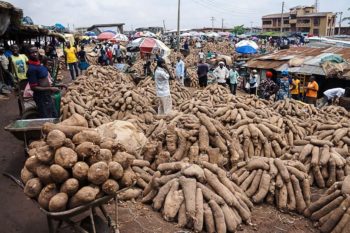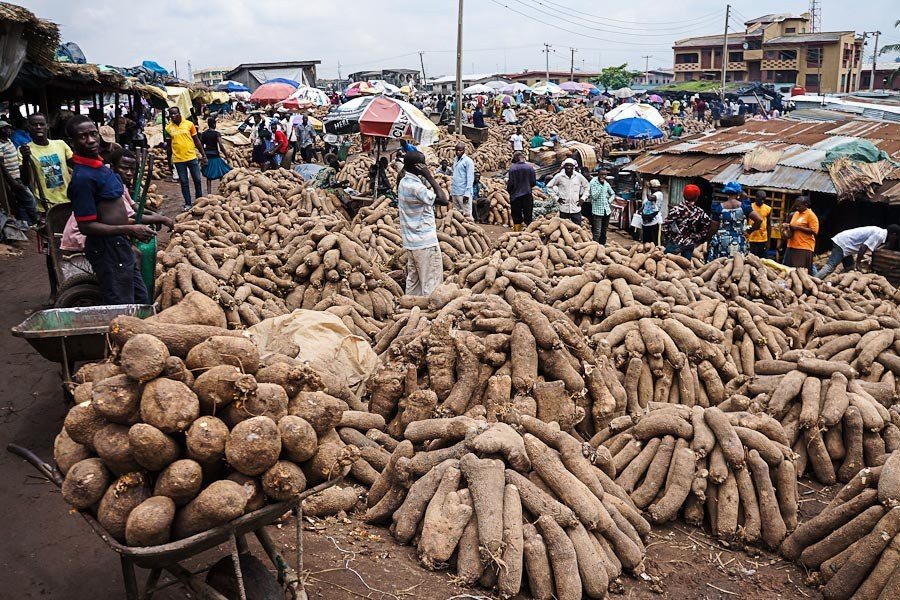 Stakeholders in the agricultural sector have expressed mixed reactions on Nigeria's new policy to export yams to UK and the U.S., saying Nigeria has yet to attain self-sufficiency in yam production.
The stakeholders said in Abuja on Monday that the hardship, which most citizens were facing in purchasing yams in the market, ought to be addressed first.
They said that the export policy could be counter-productive if no tangible efforts were made to boost yam production across the country.
National Coordinator for Zero Hunger Commodities, Dr Tunde Arosanyin, who commended the Federal Government for the new initiative, however, said that a lot needed to be done to increase food production in the country.
"Ordinarily, the exportation of food items to Europe or America is a welcome development but there are mixed feelings on the policy in the sense that people are presently hungry in Nigeria.
"We do not have enough food to eat; the government and citizens must look inwards to see how they can embark on more integrated farming to produce enough yam.
"The focus should not only be on how to improve yam production alone but it should also be on other crops like cassava, rice, maize, millet and sorghum and so on.
"When we are able to produce surplus food and feed ourselves; we can then think of selling these commodities to earn the much-needed foreign exchange.
"Earlier in the year, neighbouring African countries came here and bought produce such as maize and sorghum. This resulted in the scarcity of these products and jacked up their prices beyond the reach of an average Nigerian.
"Some people made money from selling these crops but the masses were worse off for it. So, we have to first improve on our food production, both in terms of quantity and quality.
"To begin with, let us see how we can feed our citizens before exporting the surplus foods to earn foreign exchange," he said.
Arosanyin, however, noted that Nigeria was still the largest producer of yam in the world, accounting for over 70 per cent of the world production.
"But the consumption level of the citizens is quite high and there are still some gaps that ought to be filled in yam production.
"Notwithstanding, it is a good thing as we are exploring the international market for yam but we should also give the enabling environment to the farmer, to first and foremost, improve production.
"There is this good yam seedling known as mini-set. It is a technology produced by the International Institute of Tropical Agriculture (IITA), which was used in the 80s, and this was impressive.
"I want the Federal Government to negotiate with relevant research institutes like the IITA to bring back the yam mini-set to farmers in states that produce yam in large quantities.
"Besides, agricultural extension officers have to be brought back in order to encourage farmers to make use of this improved yam seedling to increase yield.
"If we improve on the quality of our yam seeds, then we are good to go to the international market,'' he added.
National President, Sorghum and Millet Farmers Association of Nigeria, Yusuf Adams, said that the new initiative, which would be a plus to the country's economy, could be a minus to its food security.
He, however, called for pragmatic strategies to scale up yam production so as to get a balanced result, which would be a plus to both the economy and food security.
He noted that only Benue and Niger states were currently producing yam in large quantities, adding that this notwithstanding, the average price of a tuber of yam in the market was between N400 and N500.
Adams particularly advised the Federal Government to involve yam farmers in the new initiative, adding that it should buy yams directly from farmers and process them for export in order to boost the farmers' income and standard of living.
He said that the Federal Government should also consider plans for the exportation of produce like sorghum and millet because of their abundance and export potential. 
Copyright Ships & Ports Ltd. Permission to use quotations from this article is granted subject to appropriate credit given to www.shipsandports.com.ng as the source.