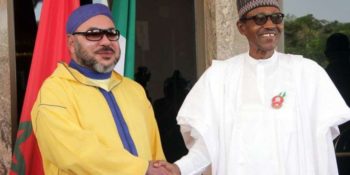 Moroccan state news agency, MAP, on Sunday said Morocco and Nigeria have signed a joint declaration in Rabat for the completion of a gas pipeline deal that will be built onshore and offshore.
The declaration was signed at a ceremony chaired by King Mohammed VI and visiting Nigerian President, Muhammadu Buhari.
The two countries agreed to the pipeline in December 2016 and launched feasibility studies ending with a plan to build the pipeline onshore and offshore, it said.
"For economic, political, legal and security reasons, the choice was made on a combined onshore and offshore route," Morocco's National Office of Hydrocarbons and Mines (ONHYM) and the Nigerian National Petroleum Corporation (NNPC), the two authorities supervising the project said in the joint declaration.
"The pipeline will be 5,660 kilometres (3,516.96 miles) long and its CAPEX has been defined," the declaration said, adding that construction will be in phases covering 25 years.
As a next step, Morocco and Nigeria will launch a front-end engineering design (Feed) to involve countries that will be crossed by the pipeline in the Economic Community of West African States (ECOWAS) and to determine the amount of gas available for export to European off-takers.
This phase also provides for assessing the financial cost and seeking funding from development banks, the joint declaration said.
The project is conducive to economic integration in the region and will help West African countries meet their energy needs as well as boost Nigeria's export potential to Europe, ONHYM and NNPC said.
Morocco's phosphates giant, OCP, also signed an agreement with Nigerian's Sovereign Investment Authority to build an industrial platform for the production of ammonia and derivatives.
The two countries also signed a cooperation agreement on agricultural vocational training.
Agency Report