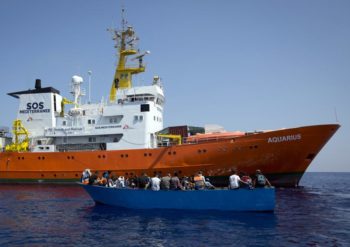 Hundreds of people on board a migrant rescue boat have been stranded in the Mediterranean between Italy and Malta in a standoff between the two nations, with both refusing to allow the vessel to dock.
Some 629 people, including pregnant women and scores of children, were saved by SOS Mediterranee on Saturday and are stuck aboard the French NGO's ship Aquarius, which is currently between Malta and Sicil, waiting for a secure port.
Malta on Sunday reiterated its refusal to accept the ship, ignoring calls from Rome.
Italy's hardline Interior Minister, Matteo Salvini, in a joint statement with Danilo Toninelli, minister in charge of the Italian coastguard, insisted that Malta "cannot continue to look the other way when it comes to respecting precise international conventions on the protection of human life".
"That's why we ask the government in Valletta to take in the Aquarius in order to offer first aid to the migrants on board."
Malta's government replied saying Prime Minister, Joseph Muscat, had spoken to Italian Premier, Giuseppe Conte and underlined "that Malta is acting in full conformity with its international obligations".
"As such Malta will not take the said vessel in its ports."
SOS Mediterranee tweeted late Sunday that the Aquarius had "received instructions from the Italian Maritime Rescue Coordination Centre to standby in our current position which is 35 nautical miles from #Italy and 27 nautical miles from #Malta".
Conte said that Italy has sent two patrol ships with doctors on board "ready to intervene and ensure the health of anyone on board the Aquarius who might have the need".
Speaking to AFP, a Maltese government spokesman insisted that the rescue of the migrants took place in the Libyan search and rescue area and was headed up by the rescue coordination centre in Rome, meaning Malta has no legal obligation to take in the migrants.
Earlier, Aquarius crew member, Alessandro Porro, told news channel Sky TG24, that the ship was north of Malta and had "received no communications from the Maltese authorities".
Migrants must apply for asylum in the European country where they first arrive, putting pressure on entry points Italy and Greece
"The people we saved yesterday were in a difficult condition, at least 50 were at risk of drowning. We need to have an idea of what port to go to, something that up to now we haven't had."
The migrants were rescued in six separate night-time operations in the central Mediterranean on Saturday.
The French organisation said that 123 unaccompanied minors, 11 small children and seven pregnant women are among those brought on board.
Italy's spat with Malta began after its reported refusal to come to the aid of another rescue ship Seefuchs, which was stranded with 126 migrants on board due to violent seas until it was allowed to dock at the Sicilian port of Pozzallo on Saturday.
EU rules mean migrants must apply for asylum in the European country where they first arrive, putting pressure on Italy and Greece, the entry points for hundreds of thousands of people fleeing war and poverty in the Middle East, Africa and Asia since 2015.
"If anyone thinks I won't move a muscle while we have another summer of landings, landings and more landings, well that's not what I'm going to do," Salvini told reporters.
In the meantime, some in Italy have offered to take in the migrants, with the mayor of Taranto, Rinaldo Melucci, saying that the southern port city was "ready to embrace every life in danger".
"Our land has always been one of refuge, I don't know how you can send away 629 human lives," he added.
Mayor of Naples, Luigi de Magistris said on Twitter that "if a minister without a heart leaves pregnant women, children, old people, human beings to die, the port of Naples is ready to welcome them".
Agency Report