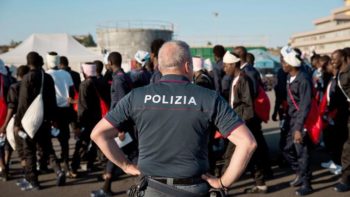 The UN Refugee Agency (UNHCR) on Monday said hundreds of migrants stranded in the Mediterranean for days have disembarked in Italy before being relocated to other European Union nations.
UNHCR wrote on Twitter that disembarkation procedures at the port of Pozzallo, near the south-eastern tip of Sicily, were completed overnight.
A total of 450 migrants were picked up on Saturday by a British vessel deployed in a mission by EU border agency Frontex and by a boat of the Guardia di Finance, Italy's customs police.
Italy had refused to allow the migrants to disembark without assurances that they would be relocated to other EU countries.
"On Sunday, 57 women, children and other vulnerable people were evacuated, while the remaining 393 were allowed ashore early on Monday," the ANSA news agency said.
A journalist for Italian broadcaster Radio Radicale, Sergio Scandura, who was on the scene, tweeted that 12 migrants were taken away by police on suspicion of being human traffickers.
On Sunday, Italian Prime Minister, Giuseppe Conte, wrote on Twitter and Facebook that France, Malta, Germany, Spain and Portugal had each agreed to host 50 migrants.
It was not immediately clear whether Italy would accept hosting the remaining 150 or if it would demand further EU burden-sharing. Belgium was reportedly ready to take in some people.
Italy's new populist government, which includes the anti-migrants League party, is leading a crusade against migrant arrivals and foreign ships that rescue them in the Mediterranean.
The government wants migrants caught at sea to be returned to Libya by the Libyan coastguard, rather than have ships run by charities or foreign navies take them to Italian shores.
Agency Report