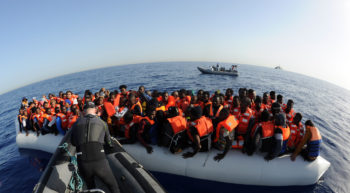 Italian coastguards seized a migrant rescue boat operated by a German aid group in the Mediterranean Sea due to suspicions it had aided illegal immigration, the police said on Wednesday.
Video showed the "Iuventa," which is run by Jugend Rettet, arriving at the island of Lampedusa surrounded by several coastguard vessels after it was stopped at sea before dawn.
The Jugend Rettet group said on Twitter its crew was being interviewed by officials, but had received no information about an investigation into its activities.
"Our crew was guaranteed this is a standard process," said the group, which is one of around eight humanitarian organizations whose operations Italy is trying to regulate.
It did not give any immediate comment on the police probe.
Rome earlier this week asked eight non-governmental groups to sign a code of conduct for when they were sailing in the southern Mediterranean, including a demand that they carry an armed policemen on board their boats.
Jugend Rettet was one of five groups that refused to sign up, but it was not clear if that had had any bearing on the decision to seize their boat.
Ambrogio Cartosio, chief prosecutor of the western Sicilian city of Trapani, told a parliamentary committee in May that he was investigating some members of humanitarian organizations on suspicion they may have cooperated with people smugglers.
He did not name any of the groups, but said suspicions arose because some rescue crew seemed to know in advance where to find the flimsy boats crowded with migrants after smugglers sent them off from north African ports.
The order to stop the "Iuventa" came from the Trapani prosecutors, police said.
Some 600,000 migrants have reached Italy by sea from North Africa since 2014, making immigration a potent political issue and putting the country under increasing pressure to manage the new arrivals.
Most have embarked from Libya, where people smugglers operate with impunity in the turmoil that has gripped the country since the fall of Muammar Gaddafi in 2011.    
Copyright Ships & Ports Ltd. Permission to use quotations from this article is granted subject to appropriate credit given to www.shipsandports.com.ng as the source.