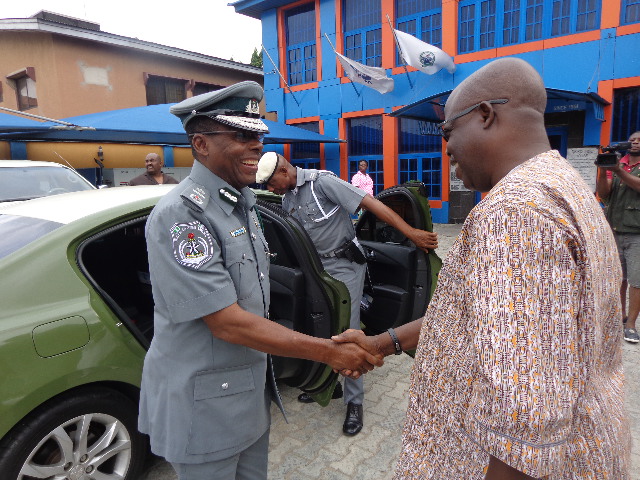 The Nigeria Customs Service (NCS) on Wednesday accused unnamed unscrupulous elements of perpetrating shady deals at commercially-run Direct Trade Input (DTI) cafes it established to facilitate cargo clearance.
Speaking at the Association of Nigerian Licensed Customs Agents (ANLCA) secretariat in Lagos, Coordinator, Customs Zone A, Assistant Comptroller-General Charles Edike said when he was Area Controller of the Tin Can Island Command, 10 containers were fraudulently cleared and released from the port through the commercial DTIs.
He said he received complaints from Customs agents about their licenses being used indiscriminately to release cargoes, without due process and without their knowledge.
The fraudulent act, according to him, prompted the NCS management to shut down of all commercial DTI cafes in the country.
While flagging off the training of ANLCA members in the application of new data capture process, Edike assured the agents that with the new initiative, sanity would be restored to DTI cafe operations as no other person would have access to their passwords.
He said private DTIs which have been approved by Customs would play a major role in blocking economic loopholes, curbing security challenges and reducing the cost and time of doing business at the ports.
"It (the training) will help them to understand the system, it will help them to capture data. It will help them not to make errors in data capture.
"Once they understand all of these, it makes our job easier because they are now aware of what to do and what not to do.
"That also means that the time and cost of doing business in our ports will be reduced. Of course, that is also good for the economy.
"It means trade will be facilitated. It also means there will be less interaction between officers and the agents.
"They can stay in their offices, make their declarations, be straightforward and it will be released.
"It is only when there are discrepancies that Customs will file for clarification.
"No other person will use their licenses, because before now, they were complaining that people were using their licenses without their knowledge.
"Now, their licenses are in their hands, they have identification codes which is known to only them so they cannot now say that their licenses are used without their knowledge.
"Everything is in their hands. Of course, it is better for them, it is better for us and it is better for the countrY," Edike said.
He charged the agents to make integrity and honest declarations their watchwords.
ANCLA President, Prince Olayiwola Shittu while speaking at the occasion, disclosed that the training programme will be replicated in Port Harcourt, Abuja and Kano.
He charged members to take the training seriously and ensure that all transactions are straightforward and true.
Copyright Ships & Ports Ltd. Permission to use quotations from this article is granted subject to appropriate credit given to www.shipsandports.com.ng as the source.