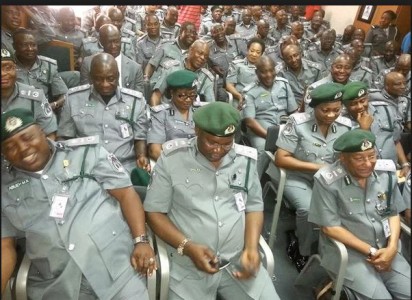 The management of Nigeria Customs Service (NCS) on Friday advised officers about to leave the service to plan well to avoid sudden death, as a result of lack of a retirement plan.
The Zonal Coordinator, Zone 'A', Assistant Comptroller-General Monday Abueh, gave the advice during a three-day interactive session on Retirement Planning by the service in Lagos.
Abueh said that the management of the service in partnership with Pension Fund Administrators (PFA) and Pension Commission (PenCom) had sensitised some officers in the South West zone, after successfully hosting a similar event at the Customs headquarters in Abuja.
He said that before now, there was no sufficient information about the pension scheme.
Abueh said this was the reason why the Comptroller-General of Customs, Hameed Ali, made the enlightenment programme possible to reduce officers' challenges while accessing the pension fund.
"There are so many questions concerning pension before now, so officers need to be educated when they are about to retire or still in the service.
"The information is important to everybody because a lot of officers faced many challenges as a result of limited information about pension.
"There were a lot of records and all sorts of infractions took place; and in 2014 there was a contributing pension scheme which made things easier and straight forward.
"What you contribute is what you get and government employed the service of PenCom, to educated people and reduce the problem in getting back money after retirement," Abueh said.
The Commandant of Customs Training School, Ikeja, Comptroller Kunle Oyeleke, advised officers to upgrade their records.
Oyeleke also pleaded with the officers, who attended the training to inform officers, who were not around to guide them against challenges that could involve data record for the pension scheme.
He, however, advised officers to check their pension fund periodically to enable them rectify any problem before retirement.
Oyeleke said officers should engage in Additional Voluntary Contributions to enable them to get more take-home after retirement.
The Moderator of the Sensitisation programme, Comptroller A O. Ogundare, advised officers to avoid inadequate data record.
"If there is disparity in the input data; for example, date of birth or date of employment and others, this could lead to officers' right being denied.
"The date of appointment must not be altered because many officers had lost their retirement benefits due to inconsistency in the date of record," he said.
Also speaking, the Customs Comptroller, Murtala Muhammed Area Command, Comptroller Frank Allanah, commended the management's efforts in organising the pension enlightenment programme for officers.
Allanah said that the training would assist most officers who were about to retire to adjust their documents to avoid forfeiting their pension rights.
He said that the sensitisation programme would reduce some bottleneck, adding that there were still challenges in getting the pension after retirement.
Allanah said that false documentation could create problems in accessing the pension, saying that the enlightenment programme was desired to eliminate the problems.
An Assistant Comptroller of Customs, Herbert Edema, urged officers to check the pension administrators and their capabilities before joining any pension scheme.
Edema said that there was need to plan very well before collecting the pension entitlements to enable you engage in proper investments that would sustain your family and give a rest of mind.
He said that officers, who were still in the service, could also save money with any Pension administrator of their choice.
The Customs boss said that officers could change from one pension scheme to another but this must be properly handled.
He said that officers should safeguard their investment by investing on stocks.
"If you keep money without investing, the value of the money would be reduced by 50 per cent within some years," he said.
Edema advised that "officers should not invest and go to sleep because one needs to know how the money is being managed".
"It is advisable for officers between ages of 36 to 45 to develop their children and make sure they build houses before retirement," he said.
Edema pleaded with the officers, who were about to retire from the service to reduce their monthly expenses, eat healthy food, avoid alcohol and take plenty of water.
According to him, officers who intend to work after retirement should train for new carrier and avoid stressful job because age could not be on their side any longer.
He said that people who were about to retire should ensure that they write their will, which he said did not determine their quick death.
The Representative of PenCom,  Folarin Olaniyan, said that PenCom came into existence in 2004 under the Contributory Pension Scheme to enable an individual to safe money through the employer.
Olaniyan said that the scheme was to assist the employee to have a good life after retirement.
He said that there was no amount of money that could be enough but it was better to be save for future usage.
"Individual must have a retirement salary account with a licensed Pension Fund Administrator (PFA).
There is room for Additional Voluntary Contribution (AVC). Is a component of the Retirement Savings Account that is clearly credited separately from the mandatory contributions.
"Individuals can ascertain his or her AVC from inception to date in his Retirement Saving Account (TSA), " Olaniyan said.
He said that, "AVC is flexible but the implication is that if you withdraw before five years, there will be tax on both the capital and the investment.
An Assistant Commandant of the Customs Training School, Dr Jayne Shoboiki advised officers not to marry any wife with the retirement money.
She said that officers should ensure that they train the children before retirement.
Shoboiki said that female officers should avoid wasting time in searching for Mr Right, saying "it is only God that determines a man's richness". She said that officers should try and ensure they build a house and avoid renting houses.
Shoboiki said this would assist officers after retirement, when they could not have much funds to rent houses of their choice.
Copyright Ships & Ports Ltd. Permission to use quotations from this article is granted subject to appropriate credit given to www.shipsandports.com.ng as the source.