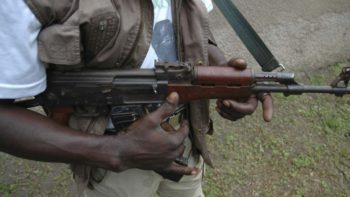 Barely a week after one of its officers was abducted and later released for a ransom by yet to be identified gunmen in Lagos, the Tin Can Island Port Command of the Nigeria Customs Service (NCS) has been thrown into mourning as one of its officers, identified as Aliu. A.D, has been shot and killed by at the National Bus Stop area of the Tin Can Island Port.
Aliu, an Assistant Superintendent of Customs, who is attached to the Ashaye exit gate of the Tin Can Island command, it was gathered, was trailed to the area by unknown gunmen at about 10pm on Thursday last week while returning from work.
Public Relations Officer of the command, Uche Ejesieme who confirmed the incidence told SHIPS & PORTS DAILY that Aliu was riding on his motorbike when the gunmen who tried to snatch his bag waylaid him but he resisted them. He said Aliu was shot in the ensuing scuffle.
Ejesieme said while the incidence has been reported to the Trinity police station, preliminary investigation is ongoing to unravel the circumstance which led to the killing of the officer.
"We cannot confirm if it is a case of assassination or arm robbery but we are relying on police investigation to help us unravel the circumstances and also find out the immediate cause of the incident.
"The matter has been reported to the police station and they are working to track the perpetrators of this heinous crime.
"The truth is that on December 22nd at about 2200 hours, one Assistant Superintendent of Customs, Aliu A.D serving at Ashaye exit gate of the command was shot along the National axis of Tin Can by unidentified gunmen while he was on his way home after close of work.
"He was on his bike and when they got to that area, they double cross him. According to the report we heard, there was a little scuffle between him and those unidentified men which led to them firing him. As soon as they fired him, they just took the waterways and disappear."
He said the officer has since been buried on Saturday December 24.
It would be recalled that Comfort Alaba Baikie, a female Chief Superintendent of Customs also attached to the Tin Can Island Port Command of the NCS was abducted by unknown gunmen in the Festal area of Lagos last week. She was later released after her family reportedly paid an undisclosed amount as ransom to her abductors.