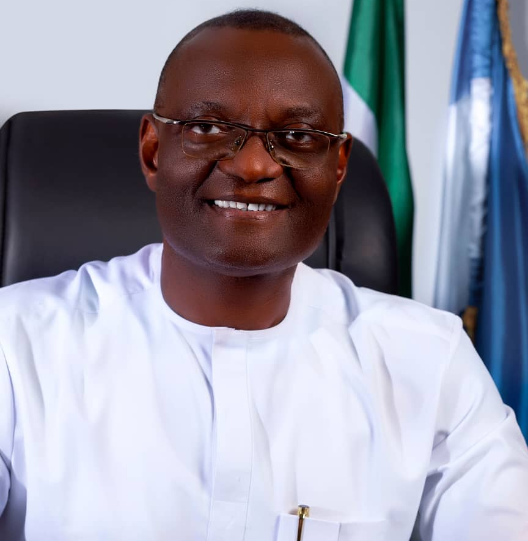 The unceremonious removal of Hon Emmanuel Jime from the position of Executive Secretary/CEO, Nigerian Shippers' Council (NSC) by President Bola Ahmed Tinubu on October 25, 2023 came as a surprise to many maritime industry stakeholders. This is because during his 28-month reign as chief port economic regulator, the lawyer and former lawmaker exhibited administrative competence and dexterity that elevated the profile of the NSC.
What endeared Jime to the hearts of many were his adroit problem-solving skills. Unfortunately, despite his competence and amiable manners, the former NSC boss fell on the wrong side of the political divide.
Jime was the first politician to be appointed head of the NSC. Prior to 2021, only maritime industry practitioners had been appointed to head the Council. However, he also turned out to be the first CEO of the council that did not complete his tenure.
Hon. Emmanuel Jime and his associates knew that with the election of Bola Ahmed Tinubu as Nigeria's President in February this year; his chances of remaining as the Executive Secretary/CEO of the NSC became slim. This is because like his counterpart in the Nigerian Ports Authority (NPA), Mohammed Bello Koko, Jime actively supported Tinubu's rival and former Minister of Transportation, Rotimi Amaechi for the All Progressives Congress, APC's presidential ticket. Jime did not only follow Ameachi around the country soliciting votes, he reportedly supported in raising funds for the former Rivers State Governor's presidential ambition. In addition to supporting Tinubu's political rival, Jime also has a long-running political battle with a former Governor of his state, Senator George Akume, who was later appointed into the powerful position of Secretary to the Government of the Federation (SGF). Shortly after he was named SGF, groups loyal to Akume mounted a campaign for Jime and Bello Koko's removal. In June, one of the groups, known as the Coalition of Northern Patriots (CNP) called on President Bola Tinubu to suspend Jime and Koko for allegedly funding Amaechi's presidential campaign. The group, in a statement signed by its President, Samson Aaron, described the duo as "corrupt", urging the President to probe their activities "and prosecute them if found guilty". Aaron said that after lavishing millions on Amaechi's failed presidential bid, they went ahead to use taxpayers' money to fund the campaign of the presidential candidate of the Peoples Democratic Party (PDP), Atiku Abubakar, "based on Amaechi's instructions". He further noted that Bello Koko and Jime have "turned their agencies into Amaechi's cash cow and operate with high-handedness, impunity, and disrespect for constituted authorities".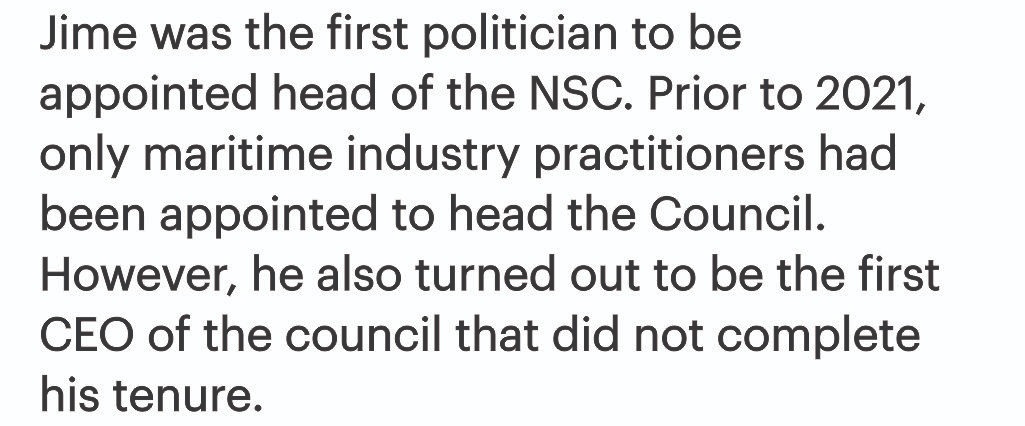 "The Managing Director of NPA, Mohammed Bello-Koko, and Emmanuel Jime, his counterpart at the Nigerian Shippers Council, should be investigated. We have enough proof to back this claim. Bello-Koko and Jime funded the failed presidential bid of Rotimi Amaechi, whom they see as their boss. They carried this out with efficiency after the sack of Hadiza Usman. And when Amaechi lost the APC ticket, he ordered his loyalists to use taxpayers' money to sponsor Atiku to defeat Tinubu.
"They failed again. These individuals have become so powerful that they carry out high-level fraud, bribery, and money laundering. We, therefore, call on the president to probe these two and prosecute them if found guilty. This administration started on a strong foot and it must sustain it by going all out for other corrupt officials," the CNP leader said.
Sources said Jime made efforts through the present Governor of Benue State, Hyacinth Alia, to make peace with Akume to save his job but the efforts were rebuffed by the SGF. Unfortunately for Jime, it did not take long for the Governor to also fall out with Akume. His fate was sealed.
Though his tenure was brief, Hon. Emmanuel Jime left indelible marks in the maritime industry. It did not take the former Speaker of the Benue State House of Assembly too long to understand the mandate of the Nigerian Shippers' Council, which he was appointed by President Muhammadu Buhari to head on June 24, 2021. Shortly after assuming office, the former lawmaker articulated his vision for the NSC by unveiling what he called his "four-year agenda". Little did he know that he would be in the saddle for only two years and four months.
The agenda include full implementation of the International Cargo Tracking Note (ICTN); completion of construction and commencement of operations of at least four Inland Dry Ports (IDPs) and at least two Vehicle Transit Areas (VTAs); operation of two Border Information Centres and operation of an Empty Container Insurance Scheme or Guarantee Scheme.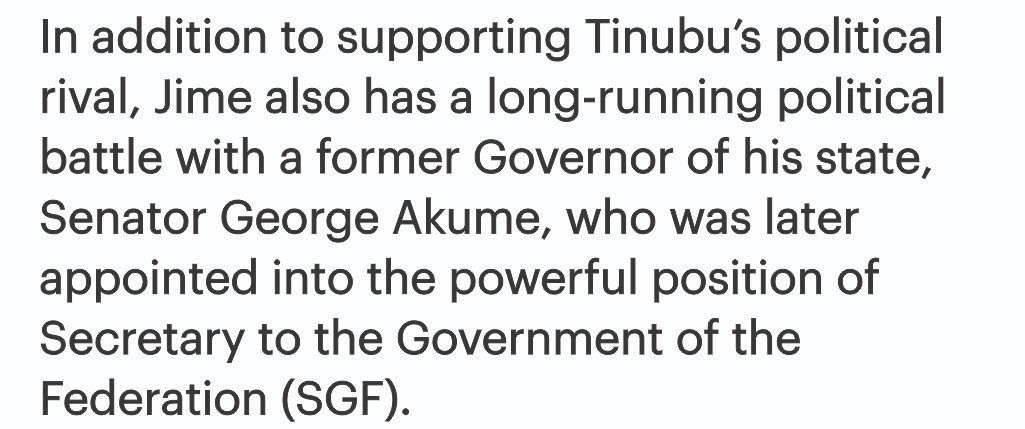 He said that the NSC would collaborate with the Federal Competition and Consumer Protection Commission (FCCPC) and shipping companies, to have in operation a Consumer Protection Regime (CPR) in the maritime industry and sign Memorandum of Understanding (MOU) with shipping companies towards alleviating the challenges faced by consumers of shipping services. He also said that the NSC under his watch had come up with new innovations that would be implemented during his first tenure. The new innovations include the development of a software application to enable shippers obtain, from their handsets, shipping and logistics information, such as shipping news, trade statistics, port charges, rotation number of vessels, local shipping charges, terminal charges and lodgement of complaints. He also said that the council planned to develop another software application for inland cargo tracking from the ports to the final destination, even as he assured stakeholders that he would institute an industry stakeholders consultative committee; organise more stakeholders' engagements and enlightenment programmes, and create an effective and robust communication strategy with the media. He also said that the NSC would work hard to facilitate trade by engaging in advocacy and creation of awareness for shippers to participate in both ECOWAS and AfCFTA Trade. He also assured that the council would embark on advocacy to eliminate the Apapa gridlock, establish and operate the National Single Window system, and eliminate checkpoints on trade corridors.
On port regulation, he said NSC would "strengthen regulatory framework and the need to develop a modus operandi for regulation; strengthen enforcement mechanism; standardise processes and procedure, resuscitate the Cargo Defence Fund and make it operational within one year, upgrade the Port Service Support Portal (PSSP) to make it more robust, as well as establish Export Desk at designated loading centres for export."
He said, "On my assumption of duty as the Executive Secretary/CEO of the Nigerian Shippers' Council in July this year, I took time to acquaint myself with the internal administrative mechanisms of the Council, paid courtesy visits to sister government agencies and also familiarised with some stakeholders in the maritime industry and the media, which are key partners to the Council in executing our mandate.
"In line with our statutory mandate, we have been able to achieve some key advances, while some are in progress. In an effort to effect full digitalisation of the port operation process, the Council carried out an advocacy exercise for port service providers on importance of compliance with digitalisation of port operational process. Although most shipping agencies have achieved 99% digitalisation of their process, they still resort to use of manual processes in some aspect, this is due to the demand for hard copies of manifest by some government agencies. However, we have urged those government agencies to automate their processes to ensure full compliance in line with the current best practice.
"A standing committee composed of representatives of shipping line agencies and the Nigerian Shippers' Council was established. This is aimed at maintaining a harmonious working relationship with the shipping companies. The committee meets regularly to discuss challenges encountered by the users/providers of the shipping services and then proffer solutions to challenges, arising.
"As a result of our collaboration with the Maritime Police Command, there has been a reduction in the rate of complaints received from the freight forwarding agents on the incessant issuance of detention alert placed on duly cleared containers by the officers of the Marine Police," he said.
He also said that the NSC had set up and inaugurated the National Shippers Association of Nigeria (NASAN), "with a view to giving the shippers across Nigeria, a stronger voice in addressing common issues of interest with the service providers and to also contribute to national policies affecting practice and conduct of international trade."
Jime also said the council, under his tenure, was able to resolve a lot of disputes between shipping companies and shippers.
"From July to December, 2021 a total of 171 complaints were received, 82 cases were resolved and 89 cases still outstanding. The sum of ₦900,809,361 was saved as a result of the council's intervention," he added.
Though his tenure was cut short due to bitter political rivalry between him and his fellow kinsman, Hon. Emmanuel Jime will be remembered as perhaps the best and most focused CEO of the Nigerian Shippers' Council. His legacies in the council will endure for many years to come.
Copyright Ships & Ports Ltd. Permission to use quotations from this article is granted subject to appropriate credit given to www.shipsandports.com.ng as the source.