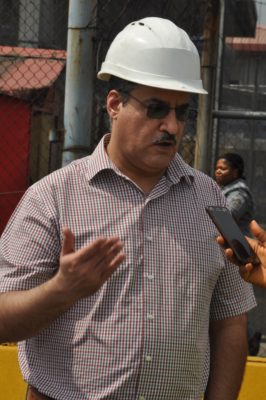 Mr. Aamir Mirza is the Managing Director, West Africa Container Terminal (WACT), Onne Port, Rivers State. With over 21 years' experience in the ports and shipping business, Mirza in this rare interview conducted on the sidelines of the commissioning of newly acquired multi-million dollars equipment to boost operation at the terminal, shares his views on what the government can do to attract more cargoes to the eastern ports. He also speaks on efforts by WACT to attract more cargo to Onne Port through the deployment of modern cargo handling equipment, among other issues. 
Excerpts: 
A lot has been said about developing the ports outside Lagos. What is your approach to this?
I think there is still lot of work that needs to be done in this area. Having worked for shipping line and from there to terminal operation, I can give you a fair assessment of some of the challenges the shipping lines also face. The issue of piracy is number one. Vessel and their crew don't feel secure when they are coming through the eastern part of Nigeria. The other challenge is the navigation restrictions. The navigational facilities and pilotage services in Lagos are far better than those outside Lagos, particularly Onne. So that is another area that needs to be addressed. More so, we don't have night navigation in this part. Those are the few things that require focus from government institutions. The first fundamental step the government needs to do is to bring Onne Port to be at par with Lagos. We should have minimum 12 meters draught to boost business activities here. Once those bottlenecks are removed, it will attract more cargoes here and bring the cost of cargo down.
What measures have you put in place to make your terminal more attractive to customers?
One of the challenges in our industry is to forecast volume growth to adequately prepare to handle it. Every year we try to get feel of market through our customers asking them how much cargo growth they expect. Is it going to be more than last year? If it is going to be more than last year, what is the increase we are looking at?  So, the challenge is to estimate growth and then plan for resources to handle that increase. What has really happened in the last two years is that in this part of the country, cargo growth has been far higher than Lagos. People perceive the services and connectivity of Onne to be better to the East Nigerian markets and middle belt, hence we see more cargo coming to us. Another reason could also be the congestion in Lagos and delays in taking import deliveries that has made Onne Port more attractive. So what we have been doing is to invest on equipment and people. Even the equipment commissioning we had recently is just one step in that direction. We added two more trucks to the initial four trucks we had about a month and a half back and one reach stacker. More reach stackers and trucks are still coming in, so there is a lot that is in the pipeline. We are conscious of our role and are taking concrete steps to improve the level of service and develop the capability for the terminal to handle the cargo that is coming in.
Talking about your operations here, what challenges are you faced with?
One of the few challenges is that because we don't have night navigation, we cannot sail a vessel if she completes operations during night. The vessel must stay until sunrise before she can leave the berth and go out. That is one challenge. The other challenge is road connectivity.  The road between Port Harcourt and Onne is getting deteriorated. The rainy season has just started and if there is heavy rain, we will have serious challenge on that road. So, infrastructure is one area where lot more still needs to be done. If traders can't easily bring in and take out their cargo, they will prefer to move cargo from here.
How much have you invested so far in the provision and development of facilities at WACT?
It will be very difficult for me to give an accurate number but very recently – between August last year and now – we committed $2.5 million to acquire news trucks and other cargo handling equipment. This is in addition to the investments we have made in developing the terminal between 2006 and now. Some of the new equipment have already arrived and there is more which is on the way.
We have been tirelessly working in developing East Nigerian freight and container market, in line with its obligations under the Concession Agreement. To effectively handle increased volumes at our terminal, we had placed order for two Mobile Harbor Cranes (MHCs) costing approx. USD 10 mil. The ordered cranes are Liebherr LHM 550 type capable of handling one of the largest container vessels calling West African Ports.
Are there any policies of government you would like to be reviewed to enhance your operations? 
I think there are challenges being faced today by industry, some of which I mentioned earlier.  Shipping lines face risk of piracy, lack of night navigation and depth in channel etc. If we can have these issues addressed, it will surely encourage more business and shipping lines will bring in more cargo here. So, the policy framework is already there, but it perhaps requires more efforts in making sure that these obstacles are removed.
With the increase in volume of trade, ports in the region are expanding to receive larger ships of 18,000 TEUs capacity, what do you think Nigeria can do to attain this hub status? 
I think infrastructure is the key. If you take for example Apapa and Tin Can Ports, they were planned for over 20, 30 years ago. The supporting infrastructure has not grown but the volume of cargoes in those ports have grown tremendously. Access to the port must also be invested in. All the hinterland connectivity, the road infrastructure that connects to the port has to be upgraded along with upgrading of the terminal and huge volumes of cargo coming in. For example, we are investing money at our terminal because we are trying to bring in more cargo here. But if the connectivity from the port to hinterland is not reliable and if the government is not going to invest to fix the road, then the investment here in the terminal will only go so far. So, for me, addressing the issue of security for the shipping lines, dredging of channels, and infrastructure including investment in road construction will attract bigger ships to come to our ports.
Are you saying we should consider dredging the ports channel to allow for bigger ships or develop new deep seaports? 
When I came to Lagos, the Lagos port draught was 12 meters. Today it is almost 14 meters. Then I handled the WAFMAX vessel that came to Lagos, which is one of the biggest vessels to call Lagos. So, the thing is, it is possible. For eastern ports, in my opinion, the first fundamental step that the government needs to make is to bring the port in Onne at par with Lagos. So we should have minimum 12 meters draught to encourage business growth leading to handling of larger vessels.
It has been said that Nigerian ports are the most expensive to do business. What do you think should be done to address this?
The cost of doing business covers a lot of elements in it. The cost starts from when somebody books the cargo. For example, if you have a vehicle and you want to get that vehicle insured, it would also depend on your age and where the vehicle is going to be used. If a vessel is going to the east, the premium charge by the vessel owner from the importer goes higher because of the piracy risk. So, we need to focus on removing those risks and bottlenecks in the supply chain. That is where the focus needs to be. Clearance process itself is another element. We must address the security risk, make the port accessible, remove the bottlenecks of infrastructure including the roads. If for example, the Onne-Port Harcourt road is not looking well, it is going to create a bottleneck because agents won't be able to take cargo in and out in time. So that should be the focus. Once those bottlenecks are removed, it will help in bring overall cost of doing business down to for all stakeholders. This is what is happening everywhere around the world.
How secured is your terminal?
Apart from our safety functions, we have security guards deployed 24/7. We have presence of the army and mobile policemen. So, it is a combination of these security measures that enable us to ensure cargo in our custody remains secure.
Copyright Ships & Ports Ltd. Permission to use quotations from this article is granted subject to appropriate credit given to www.shipsandports.com.ng as the source.