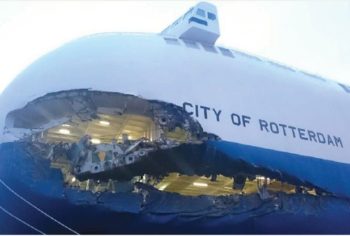 Pilot error resulting from 'relative motion illusion' has been identified as the likely cause of the collision between the vehicle carrier City of Rotterdam and a DFDS roll-on/roll-off passenger ferry on the River Humber in December 2015, the UK Marine Accident Investigation has determined.
On 3 December 2015, the Panama-flagged pure car carrier City of Rotterdam collided with the Danish registered ro-ro ferry Primula Seaways on the River Humber off Immingham, England. The collision resulted in significant damage to both vessels, but they were able to make their way to Immingham without assistance. There was no pollution and there were no serious injuries.
The MAIB released its report on its investigation on Wednesday. The investigation identified that the outbound City of Rotterdam had been set to the northern side of the navigable channel and into the path of the inbound ferry, but this had not been corrected because the pilot on board had become disoriented after looking through an off-axis window on the semi-circular shaped bridge.
"The car carrier was of an unconventional design and his disorientation was due to 'relative motion illusion', which caused the pilot to think that the vessel was traveling in the direction in which he was looking. Consequently, the pilot's actions, which were designed to maneuver the car carrier towards the south side of the channel, were ineffective," the MAIB said in its report.
"That the pilot's error was allowed to escalate the developing close quarters situation to the point of collision was due to: intervention by City of Rotterdam's master was too late, and the challenges to the pilot's actions by Primula Seaways' bridge team and the Humber Vessel Traffic Service being insufficiently robust. Although Primula Seaways started to reduce speed about 2 minutes before the collision, a more substantial reduction in speed was warranted."
The MAIB report identified several safety issues, including the pilot's actions resulted from a 'relative motion illusion'; robust challenges to the pilot's actions could have prevented his illusion from leading to the collision; off-axis bridge windows and lack of visual references led to pilot's disorientation; and ergonomic impact of innovative bridge design not fully assessed.
Following the accident, Fairmont Shipping (Canada) Limited, the City of Rotterdam's managers, took action to to reduce the likelihood of relative motion illusion and to improve the bridge resource management of its deck officers, based on an early MAIB recommendation, the MAIB said. Action has also been taken by Associated British Ports, the harbour authority for the River Humber, to confirm the competency of the pilot and the suitability of Primula Seaways' master to hold a pilotage exemption certificate, according to the MAIB.
In their report, the MAIB made recommendations to Bureau Veritas, City of Rotterdam's classification society, to propose measures to the International Association of Classification Societies that are "aimed at raising the awareness of relative motion illusion and promoting the need for naval architects and shipbuilders to adhere to internationally accepted ergonomic principles for bridge design."