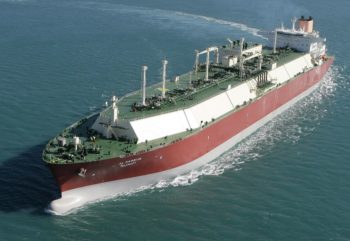 Almost a year after the first liquefied natural gas cargo left the Gulf of Mexico, the U.K. is still waiting to claim a slice of American supply. By the end of the month it will, but it won't be made in the U.S.
Peru LNG loaded a vessel on Monday destined for England, according to Lima-based Perupetro SA's website. It's the first of the plant's 401 cargoes to head to the U.K. and the first into the liquid markets of northwest Europe since 2010, not counting a shipment in August to France's Dunkirk used to cool down a new import terminal.
That a South American supplier beat the U.S. to Britain's energy market highlights changes in the way gas is being shipped and traded worldwide. While Peruvian LNG has a more natural home in nearby markets, it now has to compete with fuel from the U.S., which is expanding its export capacity. At the same time, an expansion of the Panama Canal means the shipping distance to Europe has shrunk.
"Geographically you would think this is a strange deal," said Nick Campbell, energy risk manager at Inspired Energy Plc in Preston, England. The U.K. "may be the perfect spot to move the cargoes on to more lucrative destinations such as southern France. The expanding LNG trade means the illogical can become logical."
The Gallina will arrive in Britain on Feb. 21 assuming an average speed of 17 knots, according to shipping website sea-distances. It is the seventh tanker to load at the Hunt Oil Co.-operated Peru LNG facility this year, with the other six vessels going to Spain. Peru LNG spokeswoman Sara Rivera didn't immediately reply to a call and e-mail seeking comment. Jeanne Phillips, a spokeswoman for Hunt Oil, which owns 50 percent of Peru LNG, declined to comment.
Peru's biggest market has traditionally been Mexico, which received 34 of the 71 tankers it loaded in 2016, the last in October, and has boosted imports from the U.S. Of this year's Peru LNG cargoes, all but two are traveling via the Panama Canal.
While U.K. LNG imports may have plummeted from the highs in 2011, the nation has boosted reloads of previously imported LNG and Trafigura Group plans to reopen an import terminal as new supply is expected to lead to a glut.
Cheniere Energy Inc. has exported almost 70 cargoes from its Sabine Pass facility in Louisiana, none of which have yet to reach northwest Europe. Ineos Group Ltd. has been shipping shale gas to Europe in the form of ethane, a feedstock for chemical production that is carried on far smaller vessels than the LNG tankers that supply methane used for heating and power generation.
The shipment to England on the Gallina was priced using the U.K.'s National Balancing Point, where front-month gas cost about $7 a million British thermal units on Tuesday. That compares with $3.13 a million Btu on the U.S. Henry Hub and $7.22 a million Btu for spot LNG in Singapore.
The U.K. unloaded just two LNG tankers last month, both from Qatar, compared with more than six a year earlier, according to data compiled by Bloomberg. LNG imports fell 18 percent from a year earlier in 2016 through November, to about 25 percent of total foreign supply, the latest government data showed. More than 90 percent of that came from Qatar, with the rest from countries including Norway, Algeria and Trinidad & Tobago.
Copyright Ships & Ports Ltd. Permission to use quotations from this article is granted subject to appropriate credit given to www.shipsandports.com.ng as the source.