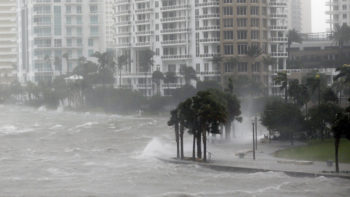 By Jite Eriabie 
The Department of Homeland Security's Acting Secretary, Elaine Duke, has extended the limited Jones Act waiver for tankers that it had issued last week ahead of Hurricane Irma's landfall in Florida.
The original waiver, which was specifically tailored to transportation of refined petroleum products in hurricane-affected areas, was issued September 8 at the recommendation of the Departments of Defense and Energy due to severe disruptions in the oil supply system resulting from Hurricanes Harvey and Irma. The waiver was effective for seven days from signing, but the DHS said an extension was possible.
Effective immediately, the waiver extension applies to covered merchandise loaded on board vessels no later than September 22, 2017.
The DHS says the extended waiver will continue to facilitate movement of refined petroleum products, including gasoline, diesel, and jet fuel, to be shipped from New York, New Jersey, Delaware, Maryland, Pennsylvania, New Mexico, Texas, Louisiana, Mississippi, Alabama, and Arkansas to Florida, Georgia, South Carolina, North Carolina, Virginia, West Virginia, and Puerto Rico.
The Jones Act requires that cargo shipped between points in the U.S. be transported on vessels that are built in the United States and owned and and crewed by American citizens.
The waiver will allow oil and gas operators to use foreign-flagged vessels to move petroleum cargoes within the affected areas.
On Wednesday, Port Everglades, Port Canaveral and the Port of Tamba Bay were all fully re-opened and prioritizing the arrival of fuel tankers.
An update from Port Tampa Bay on Wednesday said four tankers were currently discharging at the port and another seven more were expected within the next 24 hours. Port Canaveral said a fuel tanker arrived at the port on Tuesday and two more tankers were expected today. Another three tankers were discharging at Port Everglades, according to an update from the Florida Ports Council on Tuesday.
Fuel tanker trucks continue to move with escorts on the road from Florida Highway Patrol.
The last Jones Act waiver was issued in December 2012, for petroleum products to be delivered for relief assistance in the aftermath of Hurricane Sandy.
Copyright Ships & Ports Ltd. Permission to use quotations from this article is granted subject to appropriate credit given to www.shipsandports.com.ng as the source.