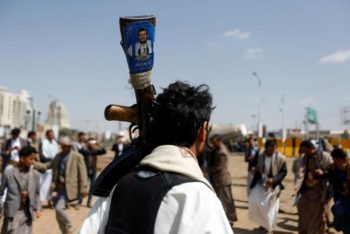 By Jite Eriabie 
Yemen's Houthi leader Abdel-Malek al-Houthi said on Thursday that his group could target Saudi oil tankers should Saudi Arabia attack Yemen's main port at Hodeidah.
"We could target Saudi oil tankers and we could do anything, we have not done this before," he said.
In a televised speech, the leader also said his group's ballistic missiles were capable of reaching the United Arab Emirates' capital of Abu Dhabi and anywhere inside Saudi Arabia.
It was unclear whether the Houthi group has the capability to carry out its threats.
Abdel Malek also said that they had successfully test fired a missile toward Abu Dhabi earlier this month and said the United Arab Emirates was no longer safe country. He gave no further details and there has been no indication by the UAE of any missiles landing on their territory.
Yemen has been devastated by more than two years of civil war in which President Abd Rabu Hadi's government, backed by a Saudi-led coalition, is fighting to drive the Houthis out of cities they seized in 2014 and 2015 in a rapid rise to national power.
"Today the port of Hodeidah is being threatened and we cannot turn a blind eye to that," Abdel-Malek said.
"If the Saudi regime and with a green light from the U.S. attack Hodeidah then we have to take steps that we haven't taken before."
The United Nations had proposed that the Red Sea port of Hodeidah, where 80 percent of food imports arrive, should be handed to a neutral party, to smooth the flow of humanitarian relief and prevent the port being engulfed by Yemen's two-year-old war.
The government of President Abd-Rabbu Mansour Hadi accuses the Houthis of using the port to smuggle in weapons and of collecting custom duties on goods, which they use to finance the war. The Houthis deny this. 
Copyright Ships & Ports Ltd. Permission to use quotations from this article is granted subject to appropriate credit given to www.shipsandports.com.ng as the source.