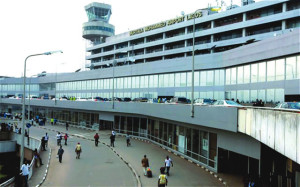 The Minister of State for Aviation, Sen. Hadi Sirika, on Monday, said the Murtala Muhammed International Airport (MMIA), Lagos, would be certified by the International Civil Aviation Organisation (ICAO) in May.
Sirika, who spoke at an interactive session with members of the Aviation Round Table in Lagos (ART), said that ICAO would also certify the Nnamdi Azikiwe International Airport, Abuja, in December.
He said the certification of both airports was well on course.
"I want to assure you that by May, Lagos airport will be certified, and in December, ICAO will also certify the Abuja airport.
"The Abuja airport ought to have been certified first, but it was shifted due to the closure of its runway, which is currently being rehabilitated,'' the minister said.
Sirika said the Federal Government was committed to repositioning aviation agencies — the Nigerian Civil Aviation Authority, Federal Airports Authority of Nigeria, Nigerian Airspace Management Agency and the Accident Investigation Bureau.
According to him, the NCAA must be autonomous, to enable the agency to properly regulate the industry.
He said, "We have our vision for the industry, and one is that the NCAA must be autonomous with all the teeth that it can bite; otherwise, none of us will be safe.
"Our role is to ensure that the NCAA is devoid of political interference while their role is to ensure that the industry is properly regulated."
Sirika said the review of the Nigerian Civil Aviation Act was also ongoing, which when completed, would help reform the sector.
The minister also decried the extortion of passengers at Nigerian airports by security agencies, describing it as an "ugly phenomenon.''
He said plainclothes officers would soon be deployed to airports to flush out the perpetrators, who were giving a bad image to the country.
The President of ART,  Gbenga Olowo, said the group was made up of aviation professionals who were committed to the advancement of the industry.
Olowo said aviation, despite being critical to the economy, had not made much progress in the country.
He said, "In year 2000, there were 12,000 weekly flights operated by airlines. In 2012, 30,000 flights were operated, and by 2015, it rose to 48,000 flights.
"However, only eight percent of these flights were operated by Nigerian airlines. So, there is an urgent need to assist our airlines, and to ensure that their operation is sustained."