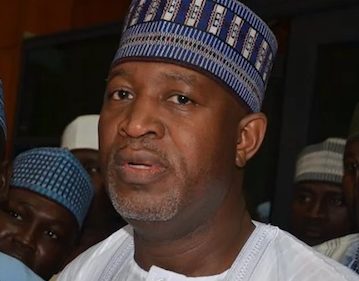 The House of Representatives has cautioned the minister of Aviation, Hadi Sirika, over plans to secure $461 million loan "to reconstruct and upgrade facilities in selected Nigerian airports."
The House said this was in addition to the $500 million already borrowed by the Aviation ministry for the same purpose, outside the 2019 budgetary allocation of N47.5 billion.
The Chairman of the House Committee on Aviation, Nkeiruka Onyejeocha dropped the hint on Tuesday during the 2019 budget defence by the ministry, and its allied agencies.
Onyejeocha observed that the move by the minister amounted to biting more than they can chew since they were already indebted, and especially as its "2018 budget was only implemented at paltry 11 percent."
Although she expressed concern over the condition of airport facilities in Nigeria, she noted that the government might have failed to plan; was wrongly advised by the bureaucrats; or never accurately assessed its needs.
"I think our problem in this country is not with budgeting but implementation. It is sad that we are still grappling with only 11 percent implementation of the 2018 budget.
"I'm also concerned about the minister's new borrowing request of US $461 million, in addition to the US $500 million already borrowed.
"These are outside the 2019 budgetary allocation of N47.5 billion. I think we need to be careful over borrowing what our children will spend their life time repaying," she cautioned.
Echoing the Chairman, a member of the Committee, Bashir Babale said he was worried by the country's unrealistic budgeting system, which fails to consider funding means and capacity.
While fielding questions, Sirika allayed fears by members of the Committee, saying the new loan request, the airports and aviation market are all viable and productive, as the ministry intends to go into a Private-Public Partnership (PPP) with future concessionaires.
He said, the new loan, when procured, would be used in rehabilitating facilities at the Abuja, Lagos, Kano and Port Harcourt airports.
According to the minister's submission, of the N26.9 billion budgeted for the ministry in 2018, only N3.1 billion was released out of which N2.9 billion was spent.
He attributed the 11 percent 2018 budget performance to lack of planning with regard to the ability to adequately fund the budget.
Some of the agencies at the budget defence include the Nigerian Airspace Management Agency (NAMA); Nigerian Civil Aviation Authority (NCAA); Nigerian College of Aviation Technology (NCAT); and the Accident Investigation Bureau (AIB). 
Copyright Ships & Ports Ltd. Permission to use quotations from this article is granted subject to appropriate credit given to www.shipsandports.com.ng as the source.