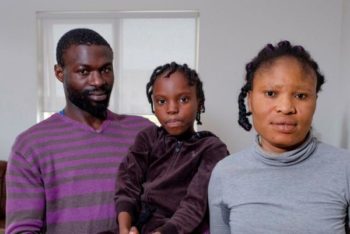 The Immigration and Asylum appeals board in Iceland has denied the appeal of Nigerian couple Sunday Iserian and Joy Lucky, and their eight year old daughter to stay in Iceland.
Mbl.Is reports that the family received the news on Monday that they were to be deported to Nigeria after living in Iceland for a year and a half.
Iserian had appealed for political asylum due to threats he received from the current government and Joy Lucky was a victim of sexual slavery while pregnant with their daughter Mary.
However, the news of the the rejection of their application met with some furore in Iceland and an online petition  was set up  for them to be able to stay in the country.
The Ombudsman for Children in Iceland had made a statement to say that they are concerned about the welfare of children seeking in asylum in Iceland.
In an earlier report,  Joy described how she was approached by a vicar at her local church back in Nigeria who promised to get her a job as a nanny in Europe.  Once she accepted the offer, which she had good faith in, she was taken to a building where her hair, and her pubic hair, was cut off and her body washed according to black magic rituals to scare her into compliance.
She was transported to Libya where she met Sunday and fell in love. Once they fled across the Mediterranean to Italy the couple lost track of each other and Joy discovered that she was pregnant.  She only found Sunday again three years later.
Sunday, on the other hand said he fled the country for political reasons and that he was afraid for his life.