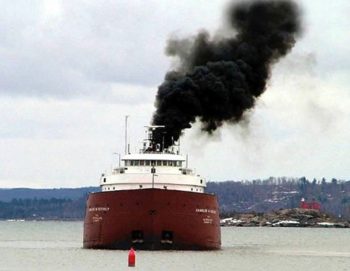 By Jite Eriabie 
The International Chamber of Shipping (ICS) has a vision of zero CO2 emissions from shipping in the second half of the century, ICS Director of Policy, Simon Bennett said while speaking at United Nations Climate Change Conference (COP 23) in Bonn.
"We are confident this will be achievable with alternative fuels and new propulsion technologies," Bennet explained.
ICS said its vision might be delivered with batteries or fuel cells using renewable energy, other new technologies such as hydrogen or even something not yet anticipated.
In the meantime, the shipping industry has proposed that the IMO Member States should adopt a suitably ambitious goal for reducing total emissions from the entire international shipping sector by an agreed percentage by 2050.
According to the chamber, a large number of IMO Member States have already come forward with detailed proposals. Several EU and Pacific island nations have jointly proposed that the sector should reduce total CO2 by as much as 70 percent by 2050.
"Japan has set out in detail to IMO how a 50 percent total cut by 2060 might be achieved. In view of projections for future trade growth, an objective in this range, while still incredibly ambitious, therefore seems more realistic," Bennet said.
"It will be for governments to agree the actual reduction number when they adopt an initial IMO strategy next April.  And this is also going to have to address the legitimate concerns of major economies such as China and India about the implications for future trade and their sustainable development."
Whatever is decided, ICS says that the entire world fleet is probably unlikely to enjoy global access to new alternative fuels for at least another 20 or 30 years. Moreover, population growth and further improvements to global living standards will probably determine that demand for shipping must continue to increase, as it is already by far the most carbon efficient form of commercial transport.
ICS added that by using a combination of technical and operational measures, the international shipping sector already appears to have reduced and held its total annual CO2 emissions at about 8 percent below its 2008 peak.  This is despite an increase of about 30 percent in maritime trade, estimated in tonnes of cargo transported one nautical mile (tonne-miles) over the period up to the end of 2015, ICS further noted.
The latest estimates will have to be verified by the next official IMO Greenhouse Study in 2019 using the new IMO CO2 Data Collection System.
"Moreover, a significant increase in marine fuel costs is expected in 2020 due to the mandatory global switch by the entire world fleet to low sulphur fuels.  This should greatly incentivise, to the extent this is possible, the further reduction of fuel consumption and CO2 emissions by ships," said Bennett.
The announcement comes on the back of the latest report on carbon dioxide emissions released at the end of October by the United Nations weather agency, according to which CO2 levels surged at "record-breaking speed" to new highs in 2016.
The report indicates that carbon dioxide concentrations reached 403.3 parts per million in 2016, up from 400 ppm in 2015.
"We have never seen such big growth in one year as we have been seeing last year in carbon dioxide concentration," said Petteri Taalas, Secretary-General of the World Meteorological Organization (WMO), telling journalists that it is time for governments to fulfill the pledges they made in Paris in 2015 to take steps to reduce global warming.    
Copyright Ships & Ports Ltd. Permission to use quotations from this article is granted subject to appropriate credit given to www.shipsandports.com.ng as the source.