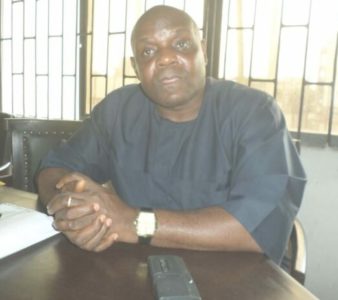 The International Freight Forwarders' Association (IFFA) has dissociated itself from the 21 day notice of withdrawal of service from the ports issued to the federal government by the leadership of the National Association of Government approved Freight Forwarders (NAGAFF) and the Association of Nigerian Licensed Customs Agents (ANLCA).
Both associations had last week issued a 21-day ultimatum to withdraw their services from the port over arbitrary charges being collected by shipping companies' Nigerian Police Force, Customs and some other government agencies in the ports.
A statement issued in Lagos by the National President of the association, Dr. Sam Onyemelukwe while frowning at the development however directed members of the association to disregard the ultimatum issued by their sister associations and continue to go about their professional jobs diligently with patriotism and commitment.
Onyemelukwe posited that although IFFA shared similar professional ideologies and common concern with any other association or group in the freight forwarding sector, it would not welcome any attempt to frustrate the present efforts of the federal government to diversify Nigeria's monolithic and already distressed economy by improving activities in sectors like maritime and shipping.
According to him, "Maritime, which freight forwarding is a major department is the highest non-oil revenue generator to the federal government of Nigeria with a target of about N1.1 trillion in 2017 alone. It has been projected that the sector can yield over N7 trillion annually to the Nigerian economy. Therefore, in these times of vigorous and radical efforts to revamp the economy, all hands must be on deck to ensure that this Government succeeds.
"IFFA believes that well laid out practical plans to reduce high cost of cargo clearance, corruption and other bottlenecks to enhance operations in maritime and shipping will lead to facilitation of trade for increased revenue to the federal government of Nigeria. In this vein, we must align with the government as partners in progress through availing of necessary advice, information and constant productive engagement.
"IFFA sees any plan to shut down the ports as an attempt to ambush the government and frustrate the current economic revamping efforts of this administration. That the port and overall maritime sector are of immense importance to the economy of Nigeria need not be over emphasized.
"In this period of recession, have we paused and pondered for a moment the value of revenue that will be lost by Nigeria daily if the ports are shut down? The attempt to shut down the ports at this critical economic situation in Nigeria can only be equated with economic sabotage by militants in the Niger Delta; it will compound the socio-political and economic pressures of the federal government caused by insurgency, militancy, as well as other crimes and IFFA will not be part of it".
He however pointed out that IFFA was not of the view that all was well in port operations and overall maritime and shipping in Nigeria.
"We are not stating that IFFA is happy or impressed with the existing state of affairs in the industry. In the contrary, we are concerned that the ports in Nigeria are too expensive, which has made them less attractive and competitive.
"IFFA hence enjoins all our members in all the ports in Nigeria to disregard any directive on strike or industrial action, withdrawal of service or protest in the ports. IFFA members should diligently face their professional assignments for their clients and maintain utmost professionalism and excellence in the discharge of their functions.
"IFFA hence calls on all sister associations and bodies in the freight forwarding and overall maritime and shipping sector of the economy to eschew violence and avoidable confrontations to embrace peace and constructive engagements, in this way greater productivity and industrial growth will be achieved in the ports and overall maritime and shipping sector", the statement said.
Copyright Ships & Ports Ltd. Permission to use quotations from this article is granted subject to appropriate credit given to www.shipsandports.com.ng as the source.