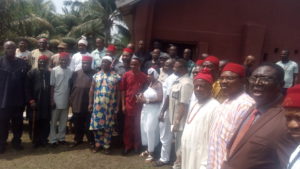 President Association Igbo Maritime Practitioners in Nigeria (ASIMPIN), Eze Damian Emeka Obianigwe has called for synergy among its members and other members in various associations irrespective of tribal inclinations to develop the maritime industry.
He said that while it was necessary to identify with where one comes from, the growth of the maritime industry which is also the growth of Nigeria should be of utmost importance when association members gather together and so they should work as one family. He therefore asked his members to cohabit in harmony with other groups.
The ASIMPIN President made the call when the association went on familiarisation visit to its chapter at the Seme border.  The group also visited other maritime associations at the border station including Association National Licensed Custom Agents (ANCLA) and National Association of Government Approved Freight Forwarders (NAGAFF).
The group was given ecstatic welcome by the chapter members who were already waiting for the arrival of guests from Lagos. Obianigwe who is also the Group Managing Director/ Chief Executive Officer of Fano Shipping Group told the gathering that they had come to familiarise themselves with the people at the border and also to give them moral boost. He called on them to work in harmony and to be true ambassadors of the body in particular and Nigeria in general.
At ANCLA office, Obianigwe expressed confidence in the chapter chairman Barrister Bisiriyu Fan and encouraged him to work together with members of ASIMPIN in harmony and to operate as one big family to achieve a common goal.
He said that although there are issues that arise from time to time in the industry, they should handle it with tact so nobody will be unduly suppressed.
At NAGAFF office, the group couldn't stay because the chairman was nowhere to be found.
While welcoming the guests, the ANCLA chairman said they had no reason to discriminate against anybody promising to even improve on the camaraderie existing within the group.
National General Secretary of ASIMPIN, Dom Obi, told newsmen that the group is as old as the maritime industry. "The name was changed recently from Igbo Maritime Forum (IMF). Recently we grew from Forum to Association. As association we are not more than five years but as IMF we are more than 50 years in existence.
"ASIMPIN is the umbrella body controlling all maritime operators of Igbo extraction. It does not discriminate against any of the industry associations. Most of us belong to these associations; for example I am the executive secretary, presidential monitoring task force of ANCLA, The Board Chairman, Chief Peter Obi is a member of BOT of ANCLA, Eugene Nweke immediate past president of NAGAFF is an official of the group, Ben Ndee, also one of us is the current
President, National Council of Managing Directors of Licensed Customs Agents (NCMDLCA), Frank Ukor, is the President Association of Registered Freight forwarders, Nigeria (AREFFN). We may operate in different associations outside, but still come together to brainstorm on Igbo interests within the industry."
He noted that the gathering is not peculiar to the Igbo but cuts across all tribes as there exists Arewa group and Oodua Maritime.