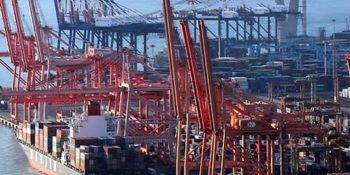 South Korea's maritime industry was scaled down in 2016 due mainly to a contraction in the shipbuilding and shipping businesses, the maritime ministry said Thursday.
The annual turnover of the country's maritime industry stood at 116.9 trillion won (US$109.73 billion) in 2016, down 7.9 percent from the previous year, according to statistics by the Ministry of Oceans and Fisheries.
The maritime industry is made up of nine sectors, including the construction and repair of vessels and offshore plants, shipping and port businesses and maritime tourism, while excluding the fishing industries.
By sector, the construction and repair of vessels and offshore plants sector accounted for 43.9 percent, the largest share, followed by the shipping and port faculties business with 38.7 percent and the equipment manufacturing sector with 8.2 percent, the data showed.
While 17,854 companies were in business in this industry, the shipping and port sector had the biggest number of firms with 7,261, which is around 40 percent of the total. The vessels and offshore plants-related sector came next with 4,981 firms, followed by the equipment manufacturing sector with 1,919 companies, according to the report.
As of the end of 2016, some 200,000 workers were employed in the industry, it noted.
"The contraction in the industry appears to be attributable to the bankruptcy of Hanjin Shipping Co.," ministry official Song Myeong-dal said, referencing the company that was the world's seventh-largest shipper until it went bust in early 2017, dealing a severe blow to the domestic shipping industry.
Such an industrywide downturn is forecast to have continued well into 2017.
Source: Yonhap  
Copyright Ships & Ports Ltd. Permission to use quotations from this article is granted subject to appropriate credit given to www.shipsandports.com.ng as the source.