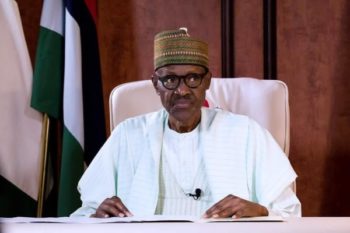 A Niger Delta group, the Ijaw Youth Council, on Monday said it disagreed with President Muhammadu Buhari's statement that Nigeria's unity "is settled and not negotiable".
Buhari spoke early Monday morning in a short nationwide broadcast in which he expressed strong views on Nigeria's continued existence as one nation and declared the country's indivisibility, despite centrifugal agitations.
Having vowed outright resistance to any secessionist struggle, he added that "grievances" by groups could only be handled the National Assembly and the Council of State, which he noted are the "appropriate and legitimate bodies for national discourse".
But in a reaction later on Monday, IYC through its leader, Eric Omare, disagreed with the president. 
Omare said Nigeria's corporate existence, as one nation of multicultural groups remains unsettled and negotiable.
He likened the president's position on the national question to military approach and one that came short of addressing sub-structural issues that spark agitations.
Omare said, "The solution in the opinion of the IYC is for President Muhammadu Buhari to take practical steps towards addressing the causes of persistent agitations in the country rather than shutting the door of engagement that would lead to the resolution of the agitations.
"Mr. President must do away with politicking and rise up to the national challenges as a statesman. We strongly hold the view that threats of brute force would not quell the agitations.
"It is only sincere and painstaking discussions that would solve the problems. This is because some of the agitations are genuine and need to be addressed."
The coalition of Northern groups, which had threatened ejection of Igbo people from northern states, also reacted to the president's broadcast on Monday.
In an apparent move to reassure Nigerians living in places removed from their states of origin, Buhari stressed the right of every Nigerian to reside and conduct business anywhere within the country.
"Every Nigerian has the right to live and pursue his business anywhere in Nigeria without let or hindrance. I believe the very vast majority of Nigerians share this view," he said. 
But in a statement by its spokesperson, Abdul-Azeez Suleiman, the group said it was rattled by the president's statement, but suggested people calling themselves non-Nigerians were not covered by the president's reassurance.
"What the President said is only reaffirming our position that Nigerians have the right to reside anywhere in the country but certainly that does not extend to a people who by action and utterances say they are not Nigerians," said the group.  
Copyright Ships & Ports Ltd. Permission to use quotations from this article is granted subject to appropriate credit given to www.shipsandports.com.ng as the source.