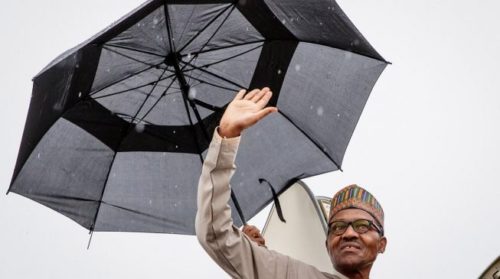 President Muhammadu Buhari says his administration will do better if he wins re-election and "survives the next four years".
Buhari said "ordinary Nigerians" form the core of his support base, maintaining that "they always vote for me".
The President made the comment on Thursday during an interactive session with Nigerian professionals based in the US and Canada.
He said his administration has delivered within the available resources.
The President said Boko Haram has been decimated, but regretted that the terrorist group was still targeting soft spots and using girls for suicide bombings.
Buhari said he is not as slow as assumed, noting that he's trying to follow the law, especially as democracy is different from military rule.
He recalled that he put people in Kirikiri Maximum Prison in Lagos when he was a Military Head of State and then ensured they remained in custody until they were able to prove themselves innocent.
"If I win the next election and I survive the next four years, I will do better," he said.
Buhari also recounted his experience in politics, saying he suffered electoral corruption from 2003 when he started contesting for the presidency.
"I'm always conscious of the ordinary people because they are the ones that always vote for me. A lot of big men have no time to go and queue on the line for hours.
"There were even pregnant women who were on the line for hours and they delivered. They are my constituencies; they always vote for me," he said.
The President explained that he had warned the Independent National Electoral Commission (INEC) and security agencies in the country to ensure that every vote counts by allowing Nigerians pick whoever they want without harassment.
Copyright Ships & Ports Ltd. Permission to use quotations from this article is granted subject to appropriate credit given to www.shipsandports.com.ng as the source.