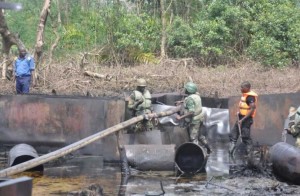 The Joint Task Force in the Niger Delta, Operation Delta Safe (OPDS) on Thursday deployed Swamp buggy, a specially designed amphibious to destroy illegal refineries in Delta.
The OPDS team, constituting the Nigerian Navy, Army, Police, Nigeria Security and Civil Defence Corps and Custom Service personnel, was led by OPDS MARITIME Component Commander, Commodore Adebamiji Ololowo.
A Swamp buggy is a purpose-built or modified motor vehicle used to move around difficult terrain or waterlogged swamp.
The team swooped on illegal refineries in Bennett Island, Warri South Local Government Area, and destroyed more than 20 metallic tanks, 10 plastic storage tanks, pipes and other equipment used to perpetrate illegalities.
Ololowo told reporters after the operation that the decision to use swamp buggy was to make it difficult for the perpetrators to go back to the illicit business after destruction.
He said the operation would be a continuous one until the illicit trade was thoroughly checkmated.
"Instead of just burning the illegal refinery camps, we should also destroy their equipment and anything that will make it easy for them to come back.
"There are two advantages of what we are doing with the swamp buggy. After we have destroyed their tanks and others, it will be very difficult for them to start the business all over again.
"We are not only crushing their equipment, we are also going to be monitoring their activities with our drones.
"You can see the colossal damage this evil act has caused to the environment and it is going to take a long time for the soil to recover," he said.
The commander urged the perpetrators to seek a better and meaningful form of livelihood rather than engaging in illegal activities.
He reminded the perpetrators that illegal activities were counter-productive to the economy and adversely affects the ecosystem.
Ololowo also said that the OPDS would go after the sponsors of the illegal activities through intelligent networks.
"You can recall that sometimes in 2017 year, our operation was to get the sponsors of these illegalities because the people you see here are just field workers.
"If we had gotten the sponsors of these illegal activities, we will not be doing what we are doing here today," he said.