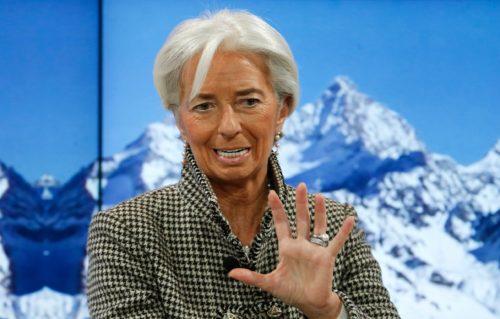 Escalating trade wars between countries, if unchecked, could reduce global Gross Domestic Product (GDP) by one per cent over the next two years, International Monetary Fund (IMF) Managing Director, Christine Lagarde has said.
Lagarde, who stated this at the plenary session at the ongoing  2018  IMF  and the World Bank Group (WBG) Annual Meetings in Bali, Indonesia, said there  was urgent need to de-escalate those trade disputes immediately.
She said apart from the fiscal and monetary threats to economies, countries were still grappling with inequality, technology and sustainability threats. The IMF boss said policies should be put in place to effectively address these threats for collective economic growth.
World Bank President Dr. Jim Yong Kim, who also spoke at the session declared open by the Indonesian President, Joko Widodo, said over the last 25 years, more than one billion people have been lifted out of extreme poverty. He gave the global poverty rate as being around 10 per cent, saying it is the lowest it had ever been recorded history.
Kim said although the 10 per cent poverty rate recorded was one of the greatest achievements, the fact remains that some 736 million people are still living in extreme poverty – which is less than one dollar and 90 cents a day.
He said: "A quarter of the world's population lives on less than three dollars and 20 cents a day, nearly half of the people on earth live on less than five and a half dollars a day. The pace of poverty reduction is also slowing, which means that we have to accelerate our efforts on the three pillars of our strategy to achieve our goals."
Kim also said technology was changing the nature of work, adding that know-how and automation were replacing scores of tasks and doing away with some jobs.
He added that innovation was changing the scope of existing jobs, creating new occupations and launching career fields that did not exist a few years ago.
The World Bank boss said if technology is helping to raise aspirations and changing the nature of work," the world has to answer the question of what people will do.
The key, he noted, "is making the right investments in people by ensuring that they accumulate the health, knowledge and skills they need to realise their full potential."
On his part, President Widodo warned against trade wars, saying they would make nations poorer. He told the gathering that unilateral economic policies and trade wars would not increase the world's wealth.
Copyright Ships & Ports Ltd. Permission to use quotations from this article is granted subject to appropriate credit given to www.shipsandports.com.ng as the source.