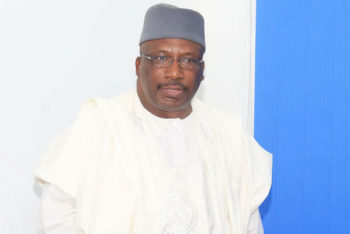 The Minister of Interior, Abdulrahman Dambazau has said the Nigeria Immigration Service (NIS) will resume air border patrol of Nigeria's massive borders before the end of this year.
Dambazau gave this assurance while addressing journalists in Kaduna after inspecting the three grounded aircrafts of the NIS at the Kaduna old Airport.
"Border management is the responsibility of the Nigeria Immigration Service and I don't see how we can be effective in managing borders of about 4,500 kilometers without the use of aircraft.
"Now, we have these three aircrafts on ground which have been grounded for several years but some of them are new and we can put them together to make use of them.
"I will personally ensure that these aircrafts are back in the air this year," he said. "with what I have seen here; the aircrafts and the staff, I believe 60 percent of our job has been done. we need to sit down to do the remaining 40 percent which includes fixing those engines, training more pilots and engineers and we are done."
The minister stressed that: "Without us managing our borders well, we will be in trouble because of a lot of cross borders activities in drugs, in arms, in human trafficking and so on", noting those activities will not make the environment conducive for investors.
"We have plans to procure more aircrafts but we don't want to go into that now at the beginning because this machines are expensive. The minimum you will require to get an aircraft to do this kind of job is $5million."
Speaking also, the Comptroller General of the NIS, Mohammad Babandede said the federal government had earlier this year, approved close to 100 border patrol vehicles to the service but added that the air patrol was important to view larger locations at once.
"These aircrafts will be able to patrol longer distance and with good communication, we can respond to problems as they happen."
It would be recalled that the former Interior Minister, Abba Moro had also promised on March 11, 2014 to begin air border patrol in the Northern part of the country to curb insecurity but could not fulfill his promise before leaving the office.