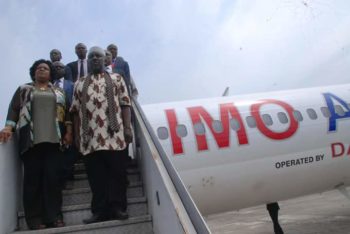 The state government-owned Imo Air has commenced recruitment of Imo State indigenes  to occupy various positions in the airline as promised by Governor Rochas Okorocha in January.
The airline, launched in January 20, is currently operated by Dana Air.
During the interview which commenced in the first week of February, over 400 Imo indigenes participated in the recruitment process just as the airline prepares to hit the ground running with several initiatives aimed at ensuring effective service delivery in the state and the South East at large.
The Accountable Manager for the airline, Obi Mbanzuo, said "we have commenced recruitment of Imo State indigenes to occupy various positions in the airline and the process will be in batches.
"We intend keeping to the promise of the governor and at the same time; we are trying not to over bloat our workforce.  As you may be aware, Dana Air was selected to manage Imo Air as a result of our consistency, on-time performance, world-class in-flight service, and shrewd managerial style and we intend sticking to this style just so we can match-up to the operational challenges in the industry."
"Definitely, all qualified candidates will be absorbed and as an airline committed to giving back to the society; we are already looking at other areas to impact and contribute our quota to increasing the traffic into Imo State, to make the state an investment and tourism hub in the south east."
Governor Okorocha while reacting to the news of the recruitment said "the exercise is just a confirmation of the promises we made during the launch of Imo Air. I am happy about this, as people thought we were joking about this well thought-out idea.
"The truth is, we want people to visit Imo State for both business and pleasure and going into an airline business was just a perfect business decision, considering that Imo State is the fastest developing city in Nigeria at the moment. And as you know, tourism and aviation are a perfect combination, one cannot work without the other."
Copyright Ships & Ports Ltd. Permission to use quotations from this article is granted subject to appropriate credit given to www.shipsandports.com.ng as the source.