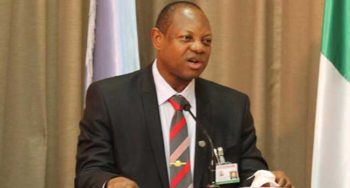 The Special Adviser to the President on Niger Delta, Brigadier General Paul Boroh (Rtd), on Thursday appealed to governments of the oil producing States to absorb beneficiaries of the amnesty programme from their respective states.
Boroh said the development will reduce unemployment among the ex-militants.
Describing the new approach as a game changer, in a statement by the Office Media & Communication Consultant, Owei Lakemfa, Abuja, the presidential aide added that it would resolve youth restiveness in the region.
He disclosed that in line with the model, the  Edo State Governor, Godwin Obaseki already commenced moves to provide employment for Edo State amnesty beneficiaries.
Boroh noted that the Office has submitted a list of 1,416 ex-Agitators including 213 scholarship graduates and 466 persons who needed training and empowerment or employment.
The statement reads: "A fundamental one in sustainably reintegrating  aggrieved youths who six years ago, had  taken  the amnesty offer of  the Federal Government."
He emphasised the need for other State governors from the oil producing states to partake in the programme.
"By assisting their youths the presidential amnesty programme is not an open-ended one and all beneficiaries would have to eventually exit the programme.
Boroh said the visit to Edo State by the Acting President, Professor Yemi Osinbajo last Monday, further cemented the ties between the people in the Niger Delta region and the federal government.
He said, "If the amount of empathy, concern and commitment to the people in the Niger Delta and their plight shown by the Buhari administration had been shown by past governments, there would have been no reason for agitations in the region. All that the people require and are asking  for is basic development and understanding which is what the Buhari administration is offering."
He lauded government's decision to get all contractors who have abandoned projects in the region to go back to work and fulfil their contractual obligations.
Copyright Ships & Ports Ltd. Permission to use quotations from this article is granted subject to appropriate credit given to www.shipsandports.com.ng as the source.