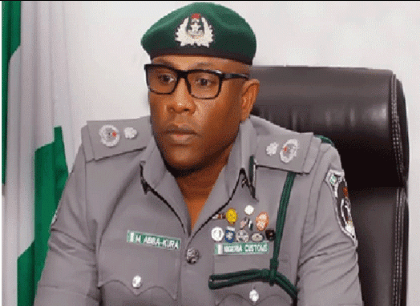 Unregistered and fake pharmaceutical products including tramadol imported into the country is top on the list of seizures recorded by the Apapa Area command of the Nigeria Customs Service (NCS) with 133 containers out of 265 intercepted in 2020.
Controller of the Command, Muhammed Abba- Kura, who disclosed this at a media briefing in Lagos on Tuesday, said most of the pharmaceutical products were falsely declared by the importers with the hope to escape Customs clearance but were detected by officers through profiling and intelligence gathering.
Abba-Kura said all the drugs have been condemned by the court as they do not have approval of the National Agency for Food Drug Administration and Control (NAFDAC).
"Most of the seizures we made are mostly of pharmaceuticals and it is because they are intelligent and system based. If we pick a particular container, we will make sure we profile the consignee and the supplier because sometimes, you will discover that they can even bring their consignment to the port and they will not make a declaration.
"So, if declaration is not made and payment is not made, they will not subject these containers for physical examination. But because of the profiling, we would be able to locate those containers and open them.
"Then, you will discover that most of them from the bill of lading do not even mention that they contain pharmaceuticals, they will call it a different name. All what they are running away from is because the drugs are either sub-standard or they don't want to go to NAFDAC for analysis and registration.
"So it is the responsibility of all Nigerians to fight against this. All of us have to be serious because we have a lot of challenges at hand including insurgency, kidnappers and arm robbery. These guys don't go for operation without taking these drugs. So we have to be up and doing to save the country," he said.
Speaking on the command's revenue collection between the months of January to December 2020, Abba-Kura said the sum of N518 billion was generated, an increase from N423.6 billion it collected during the same period in 2019.
He said the command also witnessed a boost in the area of export as it processed 1.3 million metric tons of export products with Free-On-Board Value (FOB) of $340.8 million as against 262,000 processed in 2019. The export items, he said include steel bars, agricultural and mineral products
He added that the command made a total of 318 seizures valued at N21 billion within the review period.
"In line with the provision of extant circulars, trade regulations and enforcement of government fiscal policy measures, the command was able to further strengthen its anti smuggling operations against economic saboteurs through credible intelligence driven operations and continuous partnership with other relevant agencies for effective port management to stem their illegitimate activities. Accordingly, the command made a total of 318 seizures with Duty Paid Value (DPV) of N21 billion. These figures almost tripled the total seizures for the year 2019 which stood at 112 with DPV of 12.5 billion," he said.
The Controller said the achievements were made possible as a result of officers' doggedness and tireless commitment to their duties despite COVID-19 pandemic ravaging economies all over the world.
"As we look forward to a prosperous year ahead, the command has taken bold initiatives to ensure the collection of appropriate revenue by creating an enabling environment for legitimate business to thrive," he said.