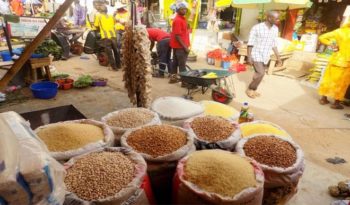 A section of importers and exporters in the country have decried the setting up of a task force on price control by the Federal Government, saying the government does not need to set up task force for all of the nation's issues even when there are clear institutions directly responsible for tackling and bringing solution to such problems.
In separate chats with SHIPS & PORTS DAILY, the shippers condemned perceived levity with which the current administration is handling the economy, including its decisions to continue to keep some 41 items of importation out of official foreign exchange list.
One of the importers, the Managing Director of Apex Transalantic Limited, John Aisabokhai there is nowhere in the world where responsible government keep setting up task force or committees to solve socio economic and political problems, asking why the government maintains respective ministries and parastatals responsible for such sectors.
He said, "We all know that in a recession, government strategies need to be geared towards growing the economy and that means they need to spend their way out of it…. they need to empower SMES across the country, they need to ensure that power gets to all manufacturing industries to allow them continue to produce to break even; AGO price hike at N260 per litre needs to be looked into.
"Ninety per cent of Nigerian businesses and homes depend on self-generating power and if cost of production and hauling of goods and services is increased, manufacturers will have no other choices than to pass on the cost to consumers."
The Federal Government on Wednesday set up a presidential task force on food price control, with several ministers as members. The high caliber task force parades as members such ministers as minister of Transportation, Rotimi Amaechi, Finance, Kemi Adeosun; Agric, Audu Ogbeh; Labour and Employment, Chris Ngige; Trade, Industry and Investment, Okey Enelamah; and Water Resources, Suleiman Adamu. The Offices of the Chief of Staff to the President and the Senior Special Assistant to the President on Sustainable Development Goals (SDGs) are also drafted on the task force. The team was given seven days to present a plan of how to reduce the cost of food, working on checking closely on transportation and preservations costs as they affect final consumer prices.
Also speaking with SHIPS & PORTS DAILY on the issue, an exporter and investor in the haulage industry, Tunde Aderemi described the task force as "quite ludicrous and crappy," saying "it makes nonsense of Nigerians the world over with impeccable calibre and qualification to deal with the current crisis on an economic note."
He said, "Government should be focusing on all the challenges being faced by all businesses and sectors of the economy and then begin to proffer solutions that meets their needs.
"As to solving the FOREX challenge, government need to allow the Naira to determine it's real value in the market, government needs to allow banks sell and buy FOREX rather than allowing a black market as we have today, government need to encourage FDIS by loosening monetary policies controlling the exchange rates—investors should be able to bring their money in and out as they please."