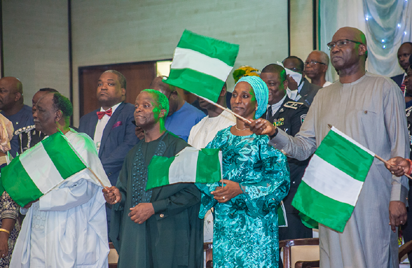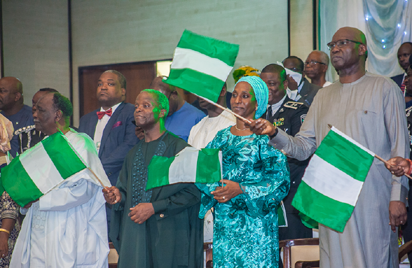 Vice President Yemi Osinbajo on Sunday assured that Nigeria will be great again and that the season for Nigeria's promotion and progress has come.
The Vice President stated this at the 58th Independence Day Interdenominational Church Service at the National Christian Centre, Abuja.
In what he described as prophetic declaration over Nigeria, he said "This anniversary is an opportunity to bless our nation. Nigeria, this 58th year of independence will mark a great new beginning of peace, prosperity, abundance.
"Nigeria, you will be exalted, you will not fall, you will excel, you will rise beyond the imagination of the world, you will be a pride to Africa and the world.
"This is the season of your exultation Nigeria, the season of your renewal, season of your restoration. All that we have lost will be restored, where we have failed, we will succeed. We declared that deaths and destruction, every device of Satan has failed over Nigeria."
Osinbajo also prayed for the family of the deceased pilot in the Nigerian Air Force jet that crashed on Friday during rehearsal for the celebration of the independence anniversary, Squadron Leader Baba Bello and the two survivors.
In his message entitled "Harnessing our Diversity for National Development" the General Superintendent of Deeper Life Church, Worldwide Dr. Williams Kumuyi said that crime against fellowmen in the country has become a big burden on the national life of Nigeria.
Kumuyi, who was the guest minister at the interdenominational church service, in his sermon said what the country needed urgently was selflessness and strong commitment to national development issues that would reposition Nigeria to become an envy of many nations of the world
Reading the book of I Corinthians 12:14-27, Pastor Kumuyi likened Nigeria to the early Corinthian Church in the Bible which according to him, failed to harness their diversified gifts for the collective greatness.
But Nigeria, he said, could easily become the envy of many nations if there is selfless and commitments to national development.
Some of the problem facing the country, he said, included contentions and divisions among Nigerians, worldly wisdom aimed at destroying the nation's deliverers.
Others are blindness by selfish ingratitude, pride in harmful dissipations, crimes against fellowmen, families under siege, losing conscience in the nation.
The clergy also listed other problems to include waning of selfless sacrifice for the good of others, Nigeria toeing the path of previous nations that destroyed themselves, lack of discernment and increasing reactionary individualism.
Proposing seven solutions to Nigeria's problems, he said, there was need to rethink priorities of the country and the church, repentance, reconciling for peaceful partnership, reconnect for purposeful pursuit, recommit to positive principles, redirect Nigeria's plans and projects, and to renew passion for progress.
He further gave three critical factors including interdependence of diverse potentials for national development, interconnection of diversified people for national development, and interrelationship of dissimilar personalities for national development.
On diversity, he said, "Unless each diverse member recognises and accepts his role in the whole body, diversity will divide rather than unite, destroy rather than build up.
"In the nation's interdependence and harmonious coordination is our strength, wisdom, glory, peace, progress, productivity, greatness, and expected position in the comity of nations. Selfishness is never satisfied and envy is never content. Independence, interrelationship, interconnection, in that lies the promise and the power for national development."
"Unqualified, rugged individualism in the bane rather than the bone of growth, progress, development and glory of any nation.
"The philosophy of independence that promotes self-sufficiency contradicts God's plan for each individual and the nation. Man's inclination to do his own thing, his own way, done by himself, without depending on others or connecting with others of different perspectives is short-sighed and disadvantageous, to say the least.
"Any nation intent on fulfilling great, predictable destiny, must make the interconnection of their diversified populace a non-negotiable. Our national development demands that those who say 'they don't need me' and those who think 'I have no need of you', realize their divinely ordained interconnection."
"In the nation, mutual support and encouragement, sincere recognition and involvement of all well meaning and qualified citizens are necessary to avoid wastage of lives and resources."
Former Head of State, Gen. Yakubu Gowon, who read the second bible reading, also prayed for peace and justice in the nation even as he urged God to touch the heart of Nigerian leaders.
He also prayed that nothing will disrupt peace in the country as the 2019 general elections approach.
Secretary to the Government of the Federation, Boss Mustapha, noted that Nigeria since 2010 has not celebrated independence anniversary in full until 2018 due to the bomb blasts, adding, "We thank God that we can now celebrate it fully in 2018."
Stressing that Nigeria is now on the path to greatness, he said, "We will not fail Nigerians."
The first Bible reading taken from Exodus 13:8-13 was read by the Chief Justice of Nigeria, Walter Onnoghen.
Copyright Ships & Ports Ltd. Permission to use quotations from this article is granted subject to appropriate credit given to www.shipsandports.com.ng as the source.