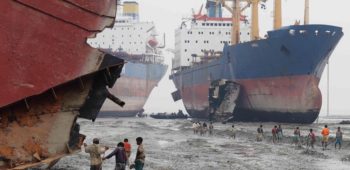 All hazardous waste generated at Alang shiprecycling facilities is being disposed of "in a safe and environmentally sound manner" in Gujarat Pollution Control Board authorized Treatment, Storage and Disposal Facility (TSDF) site, India's Ministry of Shipping informed.
Operated by Gujarat Maritime Board, the landfills are constructed as per the Guidelines of Central Pollution Control Board and provided with liner system in bottom which prevents leachate to percolate to the sub-soil.
"Monitoring of environmental parameters is done by Gujarat Pollution Control Board regularly. Regular health checkup for the workers is also conducted by GMB. Environmental Impact Assessment is carried out whenever creation of new yards or expansion and upgradation of existing yards is taken up," the government said.
However, Patrizia Heidegger, NGO Shipbreaking Platform's Executive Director, said that contrary to what the Minister of State for Shipping told the Indian Parliament, "not all hazardous waste generated by the shipbreaking yards of Alang is disposed of in a safe and environmentally sound manner."
Heidegger added that there are several reasons for that, the first being India's approval for the import of end-of-life ships without Inventories of Hazardous Materials (IHMs).
"The authorities only do quick checks without proper and detailed sampling, that is, unless the shipbreaking yard pays experts to do high-standard IHMs themselves, the breaking yards are not even aware of the amount and kind of hazardous wastes in the structure of the ship they dismantle," according to Heidegger.
Moreover, she said that the Indian law does not require that all asbestos-containing materials removed from old ships have to be disposed of.
"Last but not least, India does not have any high-temperature incinerator that can safely destroy PCBs. Unless the yard exports the PCBs to a treatment facility outside India, there is no proper disposal of PCBs. Therefore, the central waste treatment and disposal facility is no guarantee that all hazardous wastes are disposed of properly," Heidegger concluded.
Copyright Ships & Ports Ltd. Permission to use quotations from this article is granted subject to appropriate credit given to www.shipsandports.com.ng as the source.