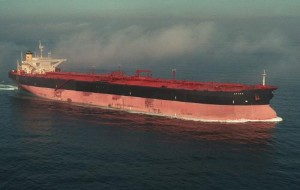 Indonesia will continue to see rising fuel demand forcing the country to import refined fuel, even though state-owned Pertamina is going all out to boost production by upgrading its refineries.
The petroleum giant has already set in motion its ambitious plan to build new refineries and upgrade existing ones in an effort to boost its refined oil production capacity to 2.3 million barrels of oil per day (bopd) by 2025 from 1 million bopd in 2015.
Production capacity will reach 2.6 million bopd by 2030, according to the plan. At present, the country's refineries are only capable of producing around 830,000 bopd, a little over half of the current refined fuel demand.
Under the plan, Pertamina is set to upgrade the Cilacap refinery in Central Java, Balikpapan refinery in East Kalimantan, Dumai refinery in Riau and Balongan refinery in West Java. It will also build several new refineries, including one in Bontang, East Kalimantan, and Tuban in East Java.
The upgraded Cilacap refinery is expected to be operational in 2022 with increased production capacity of 370,000 bopd from 340,000 bopd.
Pertamina refinery director Rachmad Hardadi said Pertamina was still in negotiations with Saudi Aramco, which has a 45 percent share in the US$5.5 billion Cilacap refinery upgrade project.
Long negotiations have prevented the two companies from establishing a joint venture for the project, despite having signed a head of agreement (HoA) almost a year ago.
"The HoA was signed on Nov. 26, 2015, and remains in effect for a year. So far, there are still some crucial issues that top level management needs to discuss," he said.
Rachmad also clarified that Saudi Aramco had not requested to lower its share despite previous claims from Coordinating Maritime Affairs Minister Luhut Pandjaitan.
Saudi Aramco has also previously shown interest in upgrading the Dumai and Balongan refineries, with upgrade costs of around $5 billion each. However, no concrete steps have been taken by the two parties as follow-up, even though Pertamina expects to complete the upgrades by 2023.
Saudi Aramco did not respond to The Jakarta Post's questions on the matter.
Meanwhile, Pertamina is optimistic that the development of the Balikpapan refinery will be completed by the third quarter of 2019. By then, the refinery will be able to produce 360,000 bopd from the current 260,000 bopd.
The Tuban refinery construction is also on track following the signing of a joint venture agreement with Russia's Rosneft Oil Company in October, only five months after the two parties first signed an HoA.
Meanwhile, BMI Research oil and gas analyst Peter Lee said that while successful refining capacity additions would improve the country's self-sufficiency in refined fuels, imports were still expected to increase by 2.7 percent per year over the next decade.
"We forecast domestic fuels requirements to expand at an average annual rate of 2.7 percent over 2016 to 2025, from 1.78 million bopd in 2016 to 2.28 million in 2025," he said.
BMI Research, a subsidiary of Fitch Group, expects that imports of refined fuels will skyrocket to 1.4 million bopd in 2025 from the current 941,000 bopd.
However, Lee noted that the firm's estimation did not include any proposed greenfield refineries due to lack of concrete time line and vulnerability to delays.
Unlike BMI Research, Pertamina projects that demand will only reach 1.8 million bopd by 2030. Based on the projection, it expects to see a measly deficit of 231,000 bopd in that year — comprising only of gasoline — if the refinery upgrades and construction finish on time.
Commenting on the slow refinery upgrade process, ReforMiner Instituter researcher Pri Agung Rakhmanto said Pertamina could increase the number of direct appointments rather than relying on public-private partnerships.
Copyright Ships & Ports Ltd. Permission to use quotations from this article is granted subject to appropriate credit given to www.shipsandports.com.ng as the source.