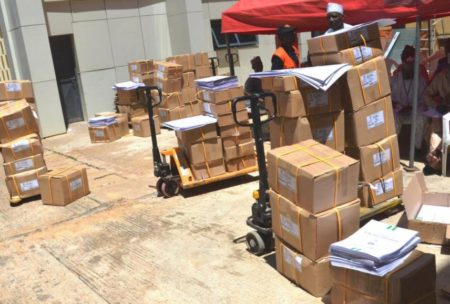 The Independent National Electoral Commission (INEC) said it was working with the police and boat operators in Lagos State to deliver election materials to polling units in riverine communities under security watch.
INEC spokesman for Lagos State, Olufemi Akinbiyi who stated this while speaking with SHIPS & PORTS DAILY on Monday, said the commission has put necessary mechanism in place to ensure the safety of election materials while assuring that voters in the riverine communities would have the opportunity to exercise their constitutional rights in the forthcoming general elections without difficulties. 
"We have put in place adequate measure to ensure that riverine areas get their materials. We have boats and security personnel that will follow the election materials to the polling units on the riverine. We have never failed the riverine (communities) in Lagos State and we will not fail them this time around.
"On the issue of security, we have held interagency consultative meeting on election security and the Commissioner of Police has directed his personnel to man those areas effectively. 
"So every riverine area has been fully policed and we have made arrangement with the boat operators that will take the materials to the place. They will go to the polling units on waters under security watch," he said.
The INEC spokesman however added that in view of the rescheduled elections, all sensitive materials have been returned to the Central Bank of Nigeria (CBN) for safe keeping.
"Since Sunday, every material in the local government, although there are no local government headquarters in the riverine, but we have polling units in the riverine. But every materials in all the 20 local governments in Lagos State have been moved back to the CBN," he added.