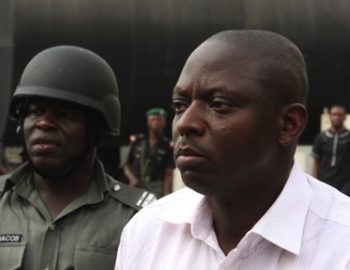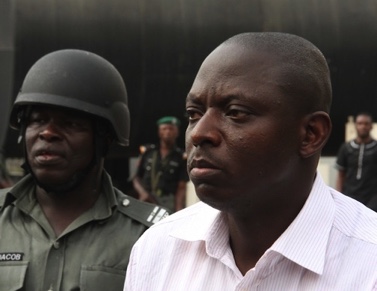 The Federal High Court in Lagos on Monday heard that N138.5 million was paid to a company named Peniel Engineering in 2014 by the Nigerian Maritime Administration and Safety Agency (NIMASA) without having or executing any contract.
An Assistant Director at NIMASA, Fredrick Ugor, told Justice Ayokunle Faji that he worked in the company before joining the agency. He testified at the trial of former NIMASA Director-General, Patrick Akpobolokemi and five others charged with N3.4 billion fraud.
Ugor said the funds were lodged in the company's account by NIMASA's Committee on Intelligence (COI) at different times in 2014.
He said he used Peniel Engineering Ltd for his personal business while also working as the Special Assistant to the Rivers State House of Assembly Speaker before he joined NIMASA.
"I know Peniel Engineering Ltd. It is owned by my friend, Engineer Jolly James, while I was in Port-Harcourt.
"It was the platform I was using for my business. The company is into maritime logistics, construction of roads and schools, etc. It was not into intelligence gathering activities," he said.
He confirmed that N20 million, N35 million, N13 million, N35 million, N6 million, N22 million and N7.5 million were paid into the company's account at different times in 2014 by the COI.
He told the court that the committee was set up by NIMASA's management to gather intelligence aimed at stopping nefarious activities in the country.
Ugor said he was not a member of the committee.
"I did not know COI is in existence. I also know in the course of interrogation that the company's account details were made available to the Committee by my Director, Captain Warredi Enisouh (fifth defendant). I gave it to him.
"Peniel Engineering Ltd did not indulge in any intelligence gathering for NIMASA to warrant any payment into the company's account," he said.
Akpobolokemi was charged along with Ezekiel Agaba, Ekene Nwakuche, Felix Bob-Nabena, Captain Warredi Enisouh and a firm, Al-kenzo Ltd, on a 22-count charge of converting N3.4 billion belonging to NIMASA for personal use.
The defendants were said to have committed the alleged offence between December 2013 and July 2015.
The Economic and Financial Crimes Commission (EFCC) said they breached Sections 15 (1), (3), and 18 (a) of the Money Laundering (Prohibitions) Amendment Act, 2012.
They pleaded not guilty. The trial continues tomorrow.