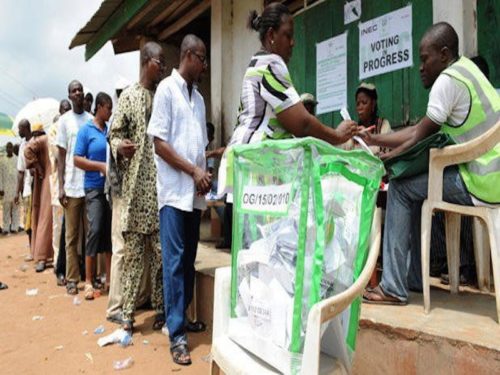 By Omotilewa Quadri
The Independent National Electoral Commission (INEC) has announced the postponement of the Presidential and National Assembly elections earlier scheduled for today by one week.
The Presidential and National Assembly election will now Saturday next week; February 23, 2019; while the governorship, State Houses of Assembly and Federal Capital Territory Area Council elections earlier fixed for March 2 now holds on Saturday, March 9, 2019.
The chairman of INEC, Prof. Mahmood Yakubu, who met with stakeholders last night, said this morning that the postponement was due to logistic reasons.
He said, "The Independent National Electoral Commission met on Friday, February 15, 2019, and reviewed its preparations for the 2019 General Elections scheduled for Saturday, February 16 2019 and Saturday, March 2 2019.
"Following a careful review of the implementation of its logistics and operational plan and the determination to conduct free, fair and credible elections, the commission came to the conclusion that proceeding with the elections as scheduled is no longer feasible.
"Consequently, the commission has decided to reschedule the Presidential and National Assembly Elections to Saturday, February 23 2019.
"Furthermore, the Governorship, State House of Assembly and Federal Capital Territory (FCT) Area Council Elections is rescheduled to Saturday, March 9 2019. "This will afford the commission the opportunity to address identified challenges in order to maintain the quality of our elections.
"This was a difficult decision for the commission to take, but necessary for the successful delivery of the elections and the consolidation of our democracy.
"The commission will meet key stakeholders to update them on this development at 2pm on Saturday 16 February 2019 at the Abuja International Conference Centre."
In its reaction, the opposition Peoples Democratic Party (PDP) immediately rejected the new dates.
It alleged that INEC's shoddy arrangements for the elections was a deliberate agenda of President Muhammadu Buhari to cling on to power.
PDP National Chairman, Prince Uche Secondus said, "Having failed in all their nefarious options to enable them cling on to power, the APC and the INEC came up with the idea of shifting election, an action that is dangerous to our democracy and is therefore unacceptable."
PDP presidential candidate, Alhaji Atiku Abubakar, in his reaction this morning blamed INEC and the ruling All Progressives Congress (APC) for the development.
While urging Nigerians to remain calm, he said, "This postponement is obviously a case of the hand of Esau but the voice of Jacob. By instigating this postponement, the Buhari administration hopes to disenfranchise the Nigerian electorate in order to ensure that turn out is low on the rescheduled date. Nigerians must frustrate their plans by coming out in even greater numbers on Saturday, 23 February and Saturday, 9 March respectively."
Copyright Ships & Ports Ltd. Permission to use quotations from this article is granted subject to appropriate credit given to www.shipsandports.com.ng as the source.