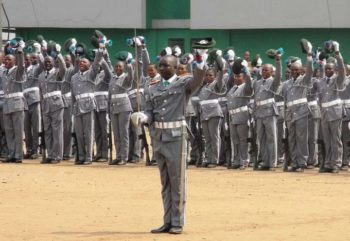 By Shulammite 'Foyeku 
The Nigeria Customs Service (NCS) has said that 26 of its officers have been killed by Boko Haram insurgents in Borno and Yobe states since the beginning of the insurgency in 2009.
The Customs Area Controller in charge of the two states, Comptroller Jesse Joshua Angbalaga, told newsmen in Maiduguri yesterday that the NCS was in the process of forwarding their names to their insurance companies for their compensations to be paid their families.
He expressed displeasure at the 'preference shown to other military and paramilitary agencies' by authorities concerned in terms of publicising the casualty figures of officers and men killed at the insurgency battle frontline to attract sympathy, stressing that NCS had also lost its own.
Angbalaga said between January 2017 and yesterday, the Customs Area Command in charge of the two states had collected N100 million revenue through the only two economically functional borders of Gaidam (Yobe) and Gamboru (Borno).
The two borders are out of the 13 the Area Command controls in Borno and Yobe states.
The Area Controller said the amount collected showed N38 million over the N62 million target allotted to the Area Command by the NCS.
He said prior to 2009, when all its 13 borders were economically functional, the Area Command used to collect over N1 billion revenue annually.