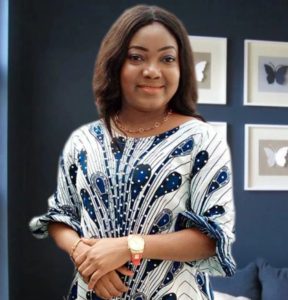 The Women Empowerment Programme Scheme Synergy (WEPSS) instituted by INTELS Nigeria Limited in Onne, Rivers State has continued to attract several women from various parts of the country. WEPSS, which is a corporate social responsibility initiative of the oil and gas logistics giant, trains rural women in sewing and fashion design for free.
Dorothy Egbe is one of the more than 700 women that have benefitted from the scheme. She shares her experience in this interview.
Excerpts. 
How did you learn about WEPSS?
A girlfriend of mine, early in 2016, told me about the Women Empowerment Programme Scheme Synergy (WEPSS). She herself had undergone the training, had graduated and was sewing clothes on a commercial scale in her shop. She wanted to know if I would be interested in the programme. I was excited and gave her the go ahead to submit my name. WEPSS caught my interest because I believe it is important for every woman in addition to getting an education, to also have a craft. At the time, I was enrolled in a part time program at the then Rivers State Polytechnic, now Ken Saro Wiwa Polytechnic, studying Computer Science. I was eager to learn something on the side that could also fetch me money while I continued with my education. Prior to our interaction, I had never heard about the program and didn't know any woman who had undergone the training. None of my family members too had heard about the program. I was surprised to learn WEPSS is an initiative of INTELS Nigeria Limited because the company is known to everyone. A few days after the discussion with my friend, I received a call from her that I had been shortlisted to take a test and interview that would enable me qualify for the training programme.
On the day of the test, I went to the venue and saw that there were many women like myself who were hoping to be enrolled into the scheme. We took an aptitude test; a lot of women were screened out through this process. The rest of us went on to the interview stage, which is a one-on-one interview. The entire process took a few days. Those of us who successfully went through the interview were then called to begin the program in July 2016. I was really happy. Before I started the program, I had envisioned myself as an event planner and decorator. To jumpstart my dream, I partnered with some event planners to plan events and also decorate the venue. I did this twice. It wasn't until WEPSS that I discovered that I had an interest in fashion too especially as regards sewing clothes. I quickly made the switch to fashion designing and have not looked back ever since.
What was your experience at WEPSS like?
It was great and far exceeded all my expectations. I believe it is also the same experience for all my classmates at the centre. The program was for four months. It was essentially focused on teaching us how to sew, cut fabrics and make clothes from them. I first learned how to use a sewing machine. I did paper exercises; how to sew a paper with the machine before I was introduced to sewing fabrics. After that I learned body measurements – how to take a person's measurements before you sew for that person. We were about 28 women in my group; most had secondary school certificates as their highest qualification. Only a few of us were university undergraduates. At first, keeping with the classes was hectic because I had no idea what sewing entailed. Things like stepping on the treadle continuously to keep the machine sewing, learning how to make proper use of scissors while cutting, and the measuring tape. It was a struggle but by the time I was able to catch up, the classes became more enjoyable.
The trainers and supervisors at the WEPSS centre are the best. The supervisors did all they could to push us to our limits so we could give our very best.Their sole concern was how to make you understand what you were there for. Although the trainers were more than enough, your success in the program was dependent on your ability to keep up with the classes and assimilate the lectures as fast as you can. Not everyone could sit on the machine and sew what they are given; in every endeavor there are always winners and losers. The centre itself is nice, spacious and conducive for learning; everything you need for the program are provided free of charge. Every Friday, we were given an end of the week assessment, which was divided into written tests and practical. For the body measurement, it is usually a written assessment. There is a pass mark you must meet to enable you qualify for a certificate. That aside, there is a higher grade point you must also meet to qualify you for an industrial sewing machine, in addition to your certificate. It is these weekly assessments that are calculated at the end of your training. I was the best student in my group and got an industrial sewing machine as a gift at the graduation ceremony. We were encouraged by the trainers and supervisors at the WEPSS centre to keep in touch. In fact, since I completed my training, I have referred two more friends of mine there. Although they were unable to qualify for the sewing machines, they did well.
Now you have completed the training, what are your next steps?
WEPSS has been of great help to me because I was able to learn new skills and acquire an industrial sewing machine at no cost. I am sewing clothes for just myself, my family and friends at the moment. I am still in school in my final year now. After I am done with my studies, I plan to start sewing full time, on a commercial scale. I am equally improving on what I was taught, learning how to make designs. I intend to direct my focus on sewing women and children's clothes.
Would you consider the programme useful to women in your community? 
Yes, it is really useful. WEPSS has brought the women in Ogoloma-Onne community and by extension the whole of Rivers out of their homes and given them a new ray of hope. So many of them were redundant in their lives – always indoors, doing nothing. Most of the women in this community are housewives while others are into farming or trading. Those who don't have a university certificate to look for jobs outside, who successfully met the WEPSS grade requirements, are now in their shops and homes sewing with their machines. Two of my friends that I referred for the program were previously at home idle before they took the training but now they are productively engaged. In addition, I met a former primary school classmate at the WEPSS centre; she works there as a staff and had earlier undergone the training. I also know of some people around me – neighbours who were also lucky to be selected and are now working with WEPSS. Through this initiative, women in Rivers State are being massively empowered. They have been given new ideas and made totally different women in terms of changing their outlook to life.
What is your assessment of INTELS as a company operating in Rivers State?
I am satisfied with their activities because I know people whose lives have been affected by INTELS Nigeria Limited. The employment opportunities they have given the youths in my community are more than enough. I have also been told by several of my peers that the company sends food to the Ogoloma-Onne community through our traditional ruler especially cows. They have really done well. If only WEPSS could be brought to the social media, more women who need it will be able to take advantage of this opportunity. If not for friends, I would never have been aware because I never saw it online. Nearly everyone is on social media now so you can imagine the impact it would have if it is on a website. Once it is online, everyone would like to click and know what is happening at the centre. That is the only way more persons who need it would enroll for it. This is a program that many women will be interested in. I know that because when I told my friends about the program they were excited. They were both full time housewives, at home doing nothing. Women would like to do something beneficial with their time even if they are not leaving the house everyday. If the program can be taken online, I am convinced many women will indicate interest.
Copyright Ships & Ports Ltd. Permission to use quotations from this article is granted subject to appropriate credit given to www.shipsandports.com.ng as the source.