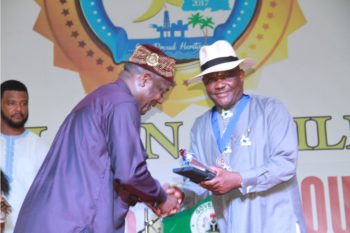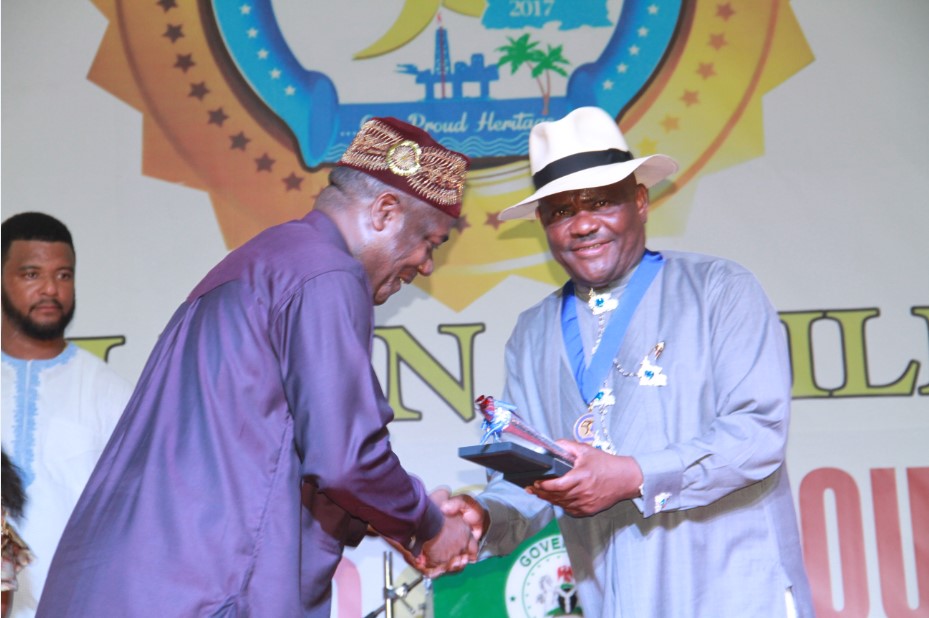 The Government of Rivers State
on Saturday
conferred the prestigious Distinguished Service Star of Rivers State (DSSRS) award on the Managing Director of leading oil and gas logistics giant, INTELS Nigeria Limited, Mr. Gabriele Volpi.
Mr. Volpi, who is also the Founder/President of Orlean Invest Holdings Limited, was honoured alongside other prominent Nigerians including former President Goodluck Jonathan and 125 others as part of activities marking the Golden Jubilee of Rivers State, which was created in 1967.
Speaking at the event held in Port Harcourt, Rivers State Governor, Mr. Nyesom Wike, described the award recipients as persons of exemplary character who have distinguished themselves in leadership and service to the people of the State.
Chairman of the Golden Jubilee Celebrations Committee, Chief Ferdinand Alabraba, described the awardees as "special individuals who have impacted greatly on the State since its creation in various fields of endeavour".
Mr. Gabriele Volpi was honoured in recognition of his outstanding achievements and contributions to the development of Rivers State, the Niger Delta and Nigeria.
A visionary businessman, Mr. Volpi pioneered and facilitated the creation and growth of no fewer than 20 corporate entities engaged in various lines of business activities in the oil and gas industry, providing jobs either directly or indirectly to over 200,000 Nigerians.
INTELS Nigeria Limited, which was established by Mr. Volpi and a few other Nigerian investors, is a multidimensional logistics company with headquarters in Onne, Rivers State and the clear leader in the provision of cutting edge logistics solution to operators in the oil and gas industry.
The General Manager, Legal of INTELS Nigeria Limited, Mr. Mike Epelle, who received the award on behalf of Mr. Volpi, said the company remains fully committed to maximizing, in a sustainable manner, the use of Nigerian human resources, materials, equipment and services in its operations without compromising the company's values, quality, health, safety and environmental standards.
He said INTELS Nigeria Limited is the leading Oil and Gas Logistics Service provider and a maritime service provider in Nigeria.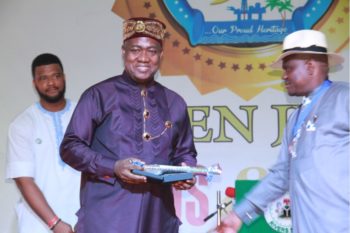 "INTELS has been a trusted partner to major Oil and Gas producing companies in Nigeria and a monumental logistic partner to the Nigerian Ports Authority (NPA) in the development of ports infrastructure and service in Nigeria.
"In over 30 years, we have added substantial value to the Nigerian Oil and Gas service industry and the operators have found our services strategic to their operations.
"In the maritime sector, INTELS' operation as a port infrastructure developer and maritime service provider reinvigorated and brought the needed momentum and life to Nigerian ports and the maritime industry with improved capacity to serve the nation.
"These efforts by INTELS have in turn boosted earnings and contributions by these sectors to the Nigerian economy while generating the much-needed employment for Nigerians.
"To achieve our vision of providing an integrated, efficient, reliable and cost effective logistics solution to the Oil and Gas industry in Nigeria, we introduced an innovative "one-stop-shop oil service centre concept" designed to meet the growing specialized needs of oil producing companies in one location to provide an integrated, efficient, reliable and cost effective logistics solution to operators in the oil and gas industry in Nigeria.
"This innovative concept has enhanced service delivery and turnaround time for Oil and Gas industry projects and thus endeared INTELS to its partners," Epelle said on the sidelines of the award ceremony.
In 2006, INTELS was awarded concession by the Federal Government to operate Terminal A (Federal Ocean Terminal) and Terminal B (Federal Lighter Terminal) of the Onne Port Complex, which houses the Onne Oil and Gas Free Zone. It also operates terminals in Warri, Calabar and Apapa ports.
INTELS has received several local and international awards and commendation.
Copyright Ships & Ports Ltd. Permission to use quotations from this article is granted subject to appropriate credit given to www.shipsandports.com.ng as the source.