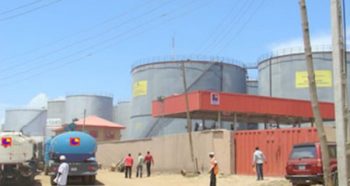 The Independent Petroleum Marketers Association of Nigeria (IPMAN) on Monday urged the Economic and Financial Crimes Commission (EFCC) to curb corruption in the sale of petroleum products in the refineries and depots across the country.
The IPMAN National Vice President, Alhaji Abubakar Maigandi explained that sharp practices in the allocation and loading of the products was still a major threat to the free flow of fuel that this administration advocates.
He said that "you know up till now there is corruption in those NNPC depots, you have to give them money before you load in any of them Warri, Port Harcourt and Kaduna. All the three refineries."
The IPMAN National Vice President, who commended the Group Managing Director of the Nigerian National Petroleum Corporation (NNPC), Dr. Maikanti Baru on his recent visit to the EFCC, asked him to take advantage of the relationship to tackle the corruption menace in the oil downstream industry.
He, however, explained that only NNPC is importing products and it sells them at a lower rate than the independent marketers, which is accountable for the price disparity.
He added that some independent marketers have however followed suit to lower their pump prices because they seek high turnover. The situation, he said has made the market highly competitive to the benefit of the consumers.
He noted that marketers were not accessing kerosene directly from NNPC, stressing that the middlemen are responsible for the additional cost in securing the kerosene.
His words: "The managing director, the other time visited Magu. So, all what they have said is good, if they can go and do it in the right way, definitely the Kerosene price will crash. Now only NNPC is bringing kerosene because there is a subsidy, so that subsidy because the NNPC is bringing their own, they sell it at a lower rate to the marketers.
"So, marketers are not able to import it because of the rate NNPC is selling because they produce, so they sell it at a lower rate.
They are selling at a lower rate but when marketers come, it will become at a higher rate. So that is the major problem that we are having now, the government is giving it at a lower rate but the marketers can not get it at that rate.
"Another unnecessary cost, which is not going to the government's pocket, if the marketers were getting it direct, the way government said they should sell, then definitely by now the kerosene will not pass N150 or 160 highest, in the filling station.
"Let Magu work with that the Managing Director, since he has gone there to meet him to assist him, let him assist him to eradicate the corruption."