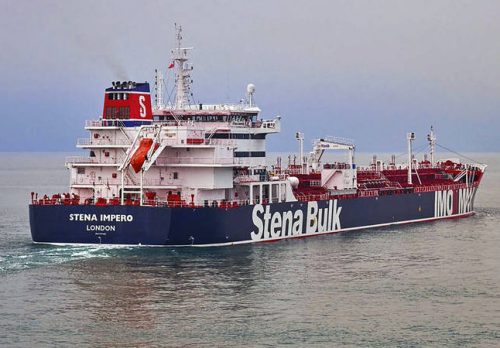 Iran might release the UK-flagged, Swedish-owned tanker Stena Impero if the UK does the same with the Iranian crude carrier it detained in Gibraltar earlier this month, the President of Iran, Hassan Rouhani, hinted in a statement on the government website. 
According to the statement, "We are not going to continue tensions with some European countries and if they are committed to international frameworks and abandon some actions, including what they did in Gibraltar, they will receive a proper response from Iran."
A week ago, Iran's Islamic Revolution Guards Corps (IRGC) seized Stena Impero in the Strait of Hormuz due to the alleged violations of international maritime law. Iran said that the ship turned off its tracker and repeatedly ignored IRGC warnings before it was boarded and seized.
The ship, owned by Stena Bulk, and its 23 crew members are still being held at the port of Bandar Abbas. Stena Bulk confirmed on July 25 that dialogues are being held with all the governments and authorities directly involved in the matter in order to secure the release of the ship and its crew.
The UK-flagged Stena Impero was captured in what seems to be a retaliatory measure after Gibraltar and the UK detained in early July the Iranian tanker Grace 1 which was reportedly supplying crude oil to Syria, a country subject to EU sanctions.
Following the seizure of Stena Impero, the UK urged the British-flagged vessel to avoid the Strait of Hormuz and announced the creation of a European-led maritime protection mission in the region in order to provide escort to commercial ships.
Reflecting on the new EU-led task force, Rouhani said, "The main responsibility for protecting the Strait of Hormuz and the Persian Gulf is mainly with Iran and neighbouring countries, and is not the others' business.
"We will not let anyone to lack discipline in the Persian Gulf and Strait of Hormuz, but we are not looking for a military tension; the actions we have taken so far have been in accordance with the violations of the opposite side."