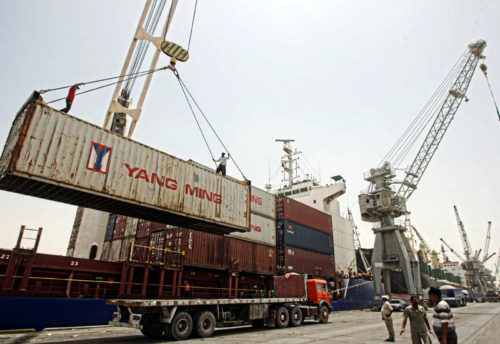 Iraq's main seaport on Thursday closed down following violent clashes between protesters and security forces in the southern city of Basra in which one demonstrator died and 25 more were injured the previous night.
Port employees said that all operations had ceased on Thursday morning at Umm Qasr port as the entrance was still blocked off and trucks and staff were unable to get in or out of the complex.
Southern Iraq, heartland of the Shi'ite majority, has erupted in unrest in recent weeks as protesters express rage over collapsing infrastructure, power cuts and corruption.
Residents in Basra, a city of more than 2 million people, say the water supply has become contaminated with salt, making them vulnerable and desperate in the hot summer months. Hundreds of people have been hospitalized from drinking it.
Overnight, protesters blocked the entrance to the nearby Umm Qasr port, the main lifeline for grain and other commodity imports that feed the country.
They blocked the highway from Basra to Baghdad and set fire to the main provincial government building where they had been demonstrating for a third night.
Public anger has grown at a time when politicians are struggling to form a new government after an inconclusive parliamentary election in May. Residents of the south complain of decades of neglect in the region that produces the bulk of Iraq's oil wealth.
Earlier on Wednesday, the third day of clashes, security forces sprayed tear gas and fired into the air to try to disperse demonstrators. According to health sources, the dead protester was struck in the head by a smoke grenade during the clashes.
The deaths of five protesters in clashes with security forces on Tuesday added to the fury. Security and health sources said 22 members of the security forces had been injured in Tuesday's violence, some by a hand grenade.
Agency Report