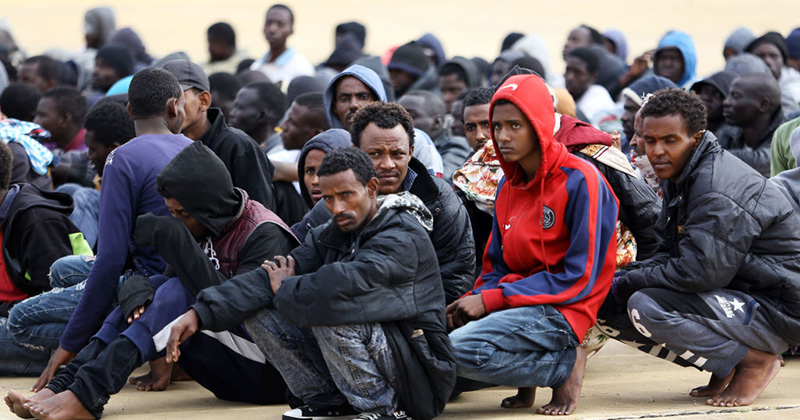 Israel is finalising a deal to deport thousands of African migrants to Uganda under a new scheme after agreements with Rwanda and the United Nation's refugee agency to find homes for those expelled fell through.
About 4,000 migrants have left Israel for Rwanda and Uganda since 2013 under a voluntary programme but Prime Minister Benjamin Netanyahu has come under pressure from his right-wing voter base to expel thousands more.
In January, Israel started handing out notices to male migrants from Eritrea and Sudan giving them three months to take the voluntary deal with a plane ticket and $3,500 or risk being thrown in jail.
The government said it would from April, start forced deportations but rights groups challenged the move and Israel's Supreme Court has issued a temporary injunction to give more time for the petitioners to argue against the plan.
Government representatives told the court on Tuesday that an envoy was in an African country finalising a deportation deal after an arrangement with Rwanda to take migrants expelled under the new measures fell through.
The representatives did not name the country in court sessions open to the public though Israeli lawmakers have previously said the two countries it was planning to deport migrants to were Rwanda and Uganda.
Israeli Deputy Foreign minister, Tzipi Hotovely, also identified the countries it was seeking to strike new deportation deals with as Uganda and Rwanda in closed-door comments leaked to Israeli Army Radio.
After the Rwanda deal fell through, the government struck an agreement with the U.N.'s refugee agency (UNHCR) to relocate 16,250 migrants to Western countries but Netanyahu scrapped it after an outcry from right-wing politicians, furious that thousands more would be allowed to stay in Israel.
The fate of tens of thousands of migrants who entered Israel illegally through its desert border with Egypt and were granted temporary visas has posed a moral dilemma for a state founded as a national home for Jews and a haven from persecution.
Israeli rights groups say the country can absorb the estimated 37,000 migrants still there, or should find them safe destinations such as those agreed under the defunct UNHCR deal.
The rights groups have accused Netanyahu, who is under police investigation for corruption, of playing political games to appeal to his right-wing supporters.
The government calls the migrants "infiltrators" and says they have come to find work. The migrants and rights groups say they are asylum seekers fleeing persecution.
The U.N.'s refugee agency and rights groups are also concerned because many of the Africans who left previously for Rwanda and Uganda voluntarily, did not get the protection they were promised and some ended up back on the migration trail.
Both countries have denied having any deals with Israel to resettle migrants. Uganda, a key Western ally in the fight against Islamist militants in East Africa, also denied there were discussions about accepting deportees under the new scheme.
"We are not aware of any Israeli envoy here. Let Israel tell you who that envoy here is going to sign an agreement with. Is it with the foreign affairs, with the president, minister of internal affairs, with who? On what date are they signing?" Uganda's Junior Foreign Affairs Minister, Okello Oryem, told Reuters on Wednesday.
At the Supreme Court hearing in Jerusalem, one of the three judges asked the state representatives why Uganda was denying the deal, if indeed there was one. The state said it would provide the court with an explanation in a closed session.
Five migrants interviewed by Reuters said they had been told by immigration officials this year that they could go either to Uganda or Rwanda, if they chose to avoid detention.
Ristom Haliesilase, an Eritrean migrant living in Tel Aviv, said he was given until April 15 to decide whether to be deported, or detained.
"My mind is full of worries. I don't know what will happen tomorrow. The first thought I have in the morning is what will they do to me today?" said Haliesilase. "It's heart breaking. It breaks the people. It breaks the community."
Many migrants live in cramped apartments in poor parts of Tel Aviv where eateries serve Eritrean food, clothing stores with signs in Tigrinya display traditional garb, and abandoned warehouses have been converted into makeshift churches.
Rights groups such as the International Refugee Rights Initiative have been documenting the plight of Eritrean and Sudanese men who have left Israel for Rwanda and Uganda for several years.
In the past few months UNHCR has also documented at least 80 cases of Eritreans who found none of the protection promised upon their departure from Israel, prompting them to go on a perilous trail through conflict zones to reach Europe.
Along the way they were subjected to arrests, torture and extortion before trying to cross the Mediterranean to reach Italy, UNHCR said. Israeli rights groups have documented dozens more such cases.
Under the voluntary scheme, asylum seekers say they were given the option of going back to their country of origin, remaining in detention in Israel or flying to a third country where they were promised they could stay and work legally.
Sajir, 27, an Eritrean now living in Uganda, told Reuters by telephone that he flew there in January after spending five months in Israeli detention.
"They said that my life would be sorted there," Sajir said, speaking in Hebrew. "But it's all a scam."
Notices handed out this year to migrants already in detention or those trying to renew their visas have promised residency and work permits in their destination country. "A local team that will meet you at the airport will provide guidance in the first few days," the document says.
Sajir said when his flight landed in Uganda, he and 10 other migrants were not taken through passport control. "We were taken out the back. Then someone loaded us onto a bus and took us to a hotel," he said.