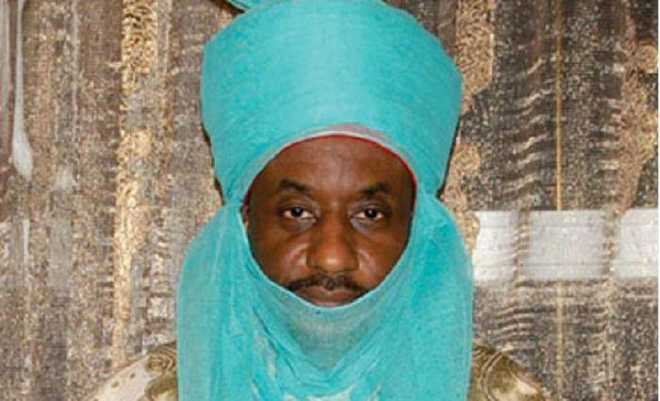 Immediate past Governor of the Central Bank of Nigeria (CBN) and present Emir of Kano, Muhammadu Sanusi ll, yesterday lamented that in spite of the past socio-economic challenges experienced in Nigeria, the country was still making the same mistakes as "we cannot process tomato paste".
"Tomato paste is being imported from China. It is sad," he said, while speaking at the 15th Joint National Council on Development Planning meeting held in Kano yesterday.
He berated the current administration of President Muhammadu Buhari for its poor handling of the economy, saying that though he is a friend of the present administration, "but if they decide to run Nigeria aground, I will become the opposition."
He attributed the current economic recession in the country to the failure of past administrations to diversify the economy. He said there was urgent need for the country to return to the drawing board and expand the economy through wise investment for its economic growth and development.
"If we do not expand the economy through wise investment, we can end up in classical Malthusian situation," he said.
"What kind of economy are we running? Who is advising the government? I want know who is advising the government so that I can talk to the adviser.
"We didn't have money, oil price has collapsed, avengers were blowing oil wells and the scarce dollars we had we are selling cheaply to some few individuals," Sanusi said.
The emir said manufacturers have abandoned production and embarked on foreign exchange business at the expense of unemployment and local production.
He lamented that it was unfortunate that while other countries are developing, Nigeria has no ambitions as a nation, saying "Do we really love our country? Do we feel any shame when we see Malaysia that collected palm oil seed from us is now exporting palm oil?"
He recalled that the Nigerian public sector wage bills went up from N443bn in 2005 to N1.7trn in 2012, adding that in 2010 when the government increased minimum wage to N18, 000, he had personally protested because government would basically rely on borrowing to pay salaries and that would not be sustainable.
However, he said Nigeria is not all about oil since oil contributes only 15 per cent to the GDP, adding that if the entire Nigeria's oil reserves were sold today, the proceeds would only add 1164 dollars per head compared to GDP per capital of 3,000 in 2016.
"So those that are making noise about oil should stop and those that are afraid about oil should stop. Oil is just a working capital; that when we sell it we get the dollars that we can use to import. If we can have another source of working capital we can do without it," he stated.
He pointed out that Nigeria is spending 6-7 billion dollars per annum on fake subsidies and all the money goes to private jets, expensive jewelleries, and properties abroad while "nothing goes to the economy".
The emir added that Nigeria earned 16 billion dollars from the oil sector in 2011 but not a single dollar went to education, roads and or power sector.
"Every dollar we earned in the oil sector went back to petroleum subsidy in 2011," he said.
He advised the FG to also focus on power generation and land reform as well in its effort to diversify the nation's economy.
He had earlier lampooned the Federal Government's foreign exchange policy, stating that "We have created our own billionaires since 2015 from foreign exchange subsidy".
He said, "They got the dollar at N197 and price their goods at N300", he said in his speech titled "Nigeria: The search for new growth model."
"For instance, when the CBN was selling dollar at N197 and people were buying at N300, if I sit down in my garden and pick up my phone I would have enough people to call in the industry to get 10 million dollars at officials rate and sell at N300 and make a profit of over N1bn and if I do that four times in a year, for doing nothing I would have earned N4billion.
"And people were telling us that this policy was to help the poor. We should not devalue because if we do the poor people would suffer.
"People that were profiting from this were the ones telling the government that if you devalue people would suffer; meanwhile they all got the dollar at N197 and price their goods at N300.
"The poor paid the price of the devalued currency and the rich schemed up the profits and it went on for one year and we talked and talked and talked.
"If the present administration continues to behave the way the immediate past government behaved, we will end up where Jonathan ended. You may not like it but that is the truth."
He added that one needs not be an economist to know that any system that allows someone to make N1bn profit through a phone call without investing a kobo is a wrong system and unsustainable.
He pointed out that the economics aspect of the whole thing was that for every one billion dollars that was taken from the federation account and sold by the CBN at N197, the states were losing N100billion that can go into salaries, into agriculture and into healthcare.
At the same time, he said, the states were going back to borrow from the same government on the bailout when the government was selling its dollars to a group of people.