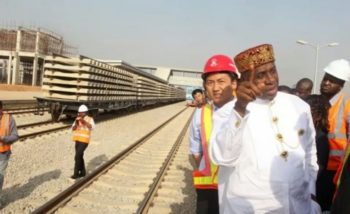 The Minister of Transportation, Rotimi Amaechi, has disclosed that the Itakpe-Ajaokuta-Warri standard gauge rail lines would begin commercial activities in August.
Amaechi, who made this known to newsmen in Abuja on Wednesday, said that the ministry was putting in place all the necessary facilities to ensure that the rail lines start operation.
He said that seven coaches were expected to arrive the country on Jan. 11 for rail transportation.
According to the Minister, the Federal Government hope to complete the Itakpe-Ajaokuta-Warri, Lagos-Ibadan, Lagos-Kano, as well as the Lagos-Port Harcourt standard gauge line before December.
Speaking on its present challenge, Amaechi said that the Lagos-Ibadan rail line is being obstructed due to water pipes, sewer pipes and gas pipes across the rail corridor, which must be removed.
He said that he would meet with the Lagos State Government to deliberate on how these challenges can be resolved to increase the progress of work.
He further said that the government has approved that the rail line should get to Niger Republic, which will resolve the transportation challenge of those importing goods.