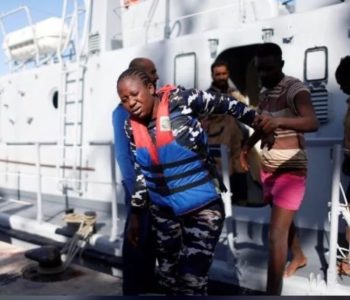 Two men, one of them an Egyptian and the other a Libyan, have been arrested and charged in Italy as investigators look into the deaths of 26 Nigerian women and girls, who are suspected to have been murdered while attempting to cross the Mediterranean. This is as Senior Special Assistant to the President on Foreign Affairs and Diaspora, Abike Dabiri-Erewa, described the death of the 26 Nigerians as "most unfortunate and tragic".
According to him, the deaths were "avoidable and preventable".
Dabiri-Erewa in a statement by her Special Assistant on Media, Abdur-Rahman Balogun, lamented that promising young Nigerians embarking on such dangerous journeys, in search of greener pastures, end up faced rather with hopelessness, torture, despair and sometimes death, as in this case.
She said, "It is tragic and lamentable. It is just not worth it ultimately. There has to be sustained awareness campaigns on the dangers inherent in such journeys. Migration policies are getting tougher all over".
She said that President Muhammadu Buhari has been working with the International Organization of Migration (IOM) to bring back voluntary returnees, adding that "even if survived, it is not usually greener out there".
Dabiri-Erewa therefore, appealed to the Italian authorities to ensure thorough investigations into the deaths and reiterated her appeals to Nigerians to desist from such journeys.
The bodies of the women were brought to the southern Italian port of Salerno by the Spanish ship Cantabria on Sunday, and prosecutors opened an investigation over suspicions that the women, some as young as 14, may have been abused and killed.
The bodies were recovered by Cantabria, which works as part of the EU's Sophia anti-trafficking operation, from two separate shipwrecks – 23 from one and three from the other. Fifty-three people are believed to be missing.
The men arrested have been named as Al Mabrouc Wisam Harar, from Libya, and Egyptian Mohamed Ali Al Bouzid.
The pair are believed to have skippered one of the boats. They were identified by survivors who were among the 375 brought to Salerno by Cantabria.
An autopsy on the bodies should be completed over the next week.
The Prefect of Salerno, Salvatore Malfi, told the Italian press that the women had been travelling alongside men and when the vessels sank, "unfortunately, the women suffered the worst of it."
But in response to concerns that the women were being trafficked for the sex trade, he said, "Sex trafficking routes are different, with different dynamics used. Loading women on to a boat is too risky for the traffickers, as they could risk losing all of their 'goods' – as they like to call them – in one fell swoop."
Marco Rotunno, an Italy spokesman for the UN refugee agency (UNHCR), said his colleagues were at the port in Salerno when the bodies were brought in.
"It was a very tough experience," he said. "One lady from Nigeria lost all her three children."
He added that 90% of the migrant women arrived with bruises and other signs of violence.
"It's very rare to find a woman who hasn't been abused, only in exceptional cases, maybe when they are travelling with their husband. But also women travelling alone with their children have been abused."
Most of the survivors were either Nigerian or from other sub-Saharan countries including Ghana, Sudan and Senegal.
The survivors brought to Tripoli also included Nigerians and Senegalese.
"I wanted to reach Italy. I don't know what to do now," said Dora Omoruyi, a 23-year old arts student from Benin, Edo state, known as hub for human traffickers to smuggle women to Italy where they often end up as prostitutes.
"I see no future in Nigeria, there are no jobs," she said, standing next to a group of weeping Nigerian survivors.
The survivors were among over 2,560 migrants saved over four days. People still continue to attempt the crossing despite a pact between Italy and Libya to stem the flow, which led to a drop in arrivals by almost 70% since the summer, according to figures released last week by Italy's Interior Ministry.   
Copyright Ships & Ports Ltd. Permission to use quotations from this article is granted subject to appropriate credit given to www.shipsandports.com.ng as the source.