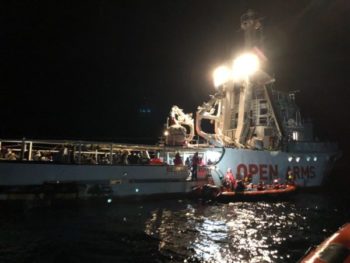 An Italian court has ordered the release of a Spanish charity ship that was seized after prosecutors said it was helping to ferry migrants illegally from Libya.
The court in Ragusa, Sicily, on Monday found that the rescue on March 15 of 218 migrants off the Libyan coast by humanitarian group Proactiva Open Arms, was justified because migrants face "grave violations of human rights" in Libya.
These include forced labour, rape, and detention without adequate food and health care, Judge Giovanni Giampiccolo said in a court order seen by Reuters.
Open Arms picked up the migrants from two overcrowded rubber boats in international waters, defying orders from the European Union-supported Libyan coastguard to leave them to be retrieved by one of its own ships.
According to Monday's court order, the Libyans threatened to fire at the ship if Open Arms did not hand over the migrants.
When the migrants disembarked in Italy, the ship was impounded. A criminal investigation into its captain and the rescue coordinator for helping illegal immigration is continuing. Italian law separates legal procedures for physical assets from those for people.
"It's obviously good news," Open Arms' Mission Head for Italy, Riccardo Gatti, told Reuters by phone.
"But we're still concerned about the fact that two people remain under investigation… and Italy remains a hostile environment for migrant arrivals."
The case has highlighted tensions between humanitarian rescuers and authorities who are trying to stop people from making the dangerous crossing to Europe from Africa.
A German ship, the Iuventa, used by aid group Jugend Rettet, was impounded in August on similar charges, which it denies.
Italy has agreed to pass more responsibility for Mediterranean rescues to Libya's coast guard by 2020.
International law requires migrants rescued at sea be taken to a "place of safety" but the United Nations has said they face dire conditions in Libya, and those who have made the crossing tell of nightmarish treatment.
Some 5,330 migrants have reached Italian shores from Libya this year, the Interior Ministry says, more than 80 percent fall from the same period in 2017, thanks partly to interceptions by Libya's coast guard, which has been trained and financed by the EU and Italy.
Since 2014, more than 600,000 migrants have reached Italy by sea. Many have moved on to other EU countries.
Agency Report