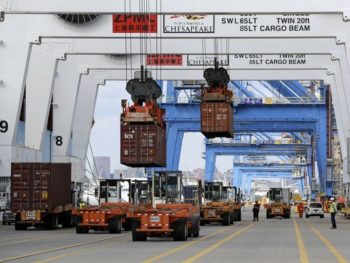 Morocco's trade deficit grew 10.6 percent to MAD48.705 billion ($5.31 billion) in the first three months of 2018 compared with same period a year earlier, the foreign exchange regulator said on Monday.
The gap widened from MAD44.022 billion in January-March last year, as imports rose 8.2 percent to MAD117.141 billion. That outstripped a 6.6 percent increase in total exports to MAD68.436 billion from MAD64.192 billion.
There was a 12.4 percent rise in equipment imports to MAD30.456 billion, a 7.8 percent increase in finished consumer goods to MAD25.719 billion, and a MAD14.3 percent rise in food imports to MAD12.526 billion.
Exports of phosphates and derivatives fell by MAD752 million.
Tourism receipts grew 20.2 percent to MAD15.184 billion from MAD12.634 billion last year, while remittances from Moroccans living abroad posted a 13.5 percent increase to MAD16.020 billion.
Foreign direct investments fell by 24 percent to MAD4.325 billion, down from 5.688 billion in first three months of last year.
Agency Report