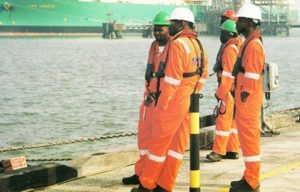 The International Transport Workers Federation (ITF) has promised to support Nigerian seafarers secure employment on foreign going vessels to enable them work beyond the local Cabotage vessels. .
Africa Regional Secretary of ITF, Muhammed Safiyanu, who gave the assurance last weekend in Lagos, expressed concern over shortfall in the number of Nigerian seafarers in global shipping trade due to absence of international certification.
Safiyanu said to address the shortfall, ITF has commenced a Maritime Affiliate Support Program, to train Nigerian seafarers in collaboration with the Nigerian Maritime Administration and Safety Agency (NIMASA) and expand ITF maritime agreement in Nigeria.
The program, which is the first of its kind in the world, he said would take-off in Nigeria and run for 15 months.
"There is a huge gap in Nigerian seafarers' capacity to work in global vessels and the problem is because they do not have international certification that will give them the opportunity to work in international vessels. That is why they are limited to the local Cabotage trade.
"What we are trying to do is to bring a project that we call the Maritime Affiliate Support. The project, which is going to take 15 months, is centred on two cardinal points. One is to see how we can expand the ITF maritime agreement in Nigeria, secondly is to offer some assistance in terms of training so that Nigerian seafarers can actually be operating beyond the Cabotage trade that we have in Nigeria.
"From the records that we have globally, we understand that we have a shortfall of Nigerian seafarers globally, and the only way we can change that is to enhance collaboration with NIMASA so that we can have an understanding where Nigerian seafarers can be trained so that they can have global opportunities instead of only operating in the Cabotage trade.
"The project is designed to capture two affiliates in Nigeria; MWUN and the Merchant Navy Senior Staff Association. We have agreed to form a small working group to make sure that the strategy we have designed is fruitful.
"Our focus at the end is to make sure that you have an additional membership density that would project you more so that you can have an effective impact on the work you are doing.
"Next is to institutionalise dockworkers and seafarers recreation centres, which we are trying to build for you. The plan is in the preliminary stage but it will require the cooperation of all stakeholders so that the facility is granted to you," he said.