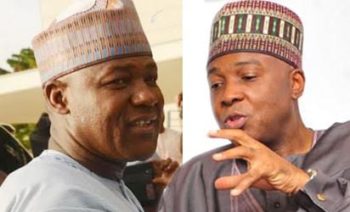 Acting President Yemi Osinbajo has said that it would be suicidal to threaten Senate President Bukola Saraki and Speaker Yakubu Dogara considering their physical sizes.
Osinbajo was speaking jokingly while declaring open the 16th Conference of Speakers and Presiding Officers of the Commonwealth (CSPOC) in Abuja on Tuesday.
The acting president said the two arms of government have worked harmoniously in the past two years but that the Nigerian media gets more interested in disagreements between them.
"On a lighter note, I don't know the experiences of presiding officers from other nations present here on the relationship between the Executive and the Legislature by the press and the social media.
"Here in Nigeria, what makes news is conflict between the Executive and the Legislature. The more dramatic is it, the more newsworthy it becomes.
"If you follow things in the media, you'll be confronted by the exclusive and breaking news stories, reporting several different issues of conflicts between the Executive and the Legislature.
"I'll pick just one. There's one of our popular newspapers that had the caption: 'Acting President threatens leadership of the National Assembly.'
"Now, if you see the combined sizes of the Senate President and the Right Honourable Speaker compared to mine, it'll be a suicidal to threaten either of them let alone the two of them," Osinbajo said jokingly.